Block Diagram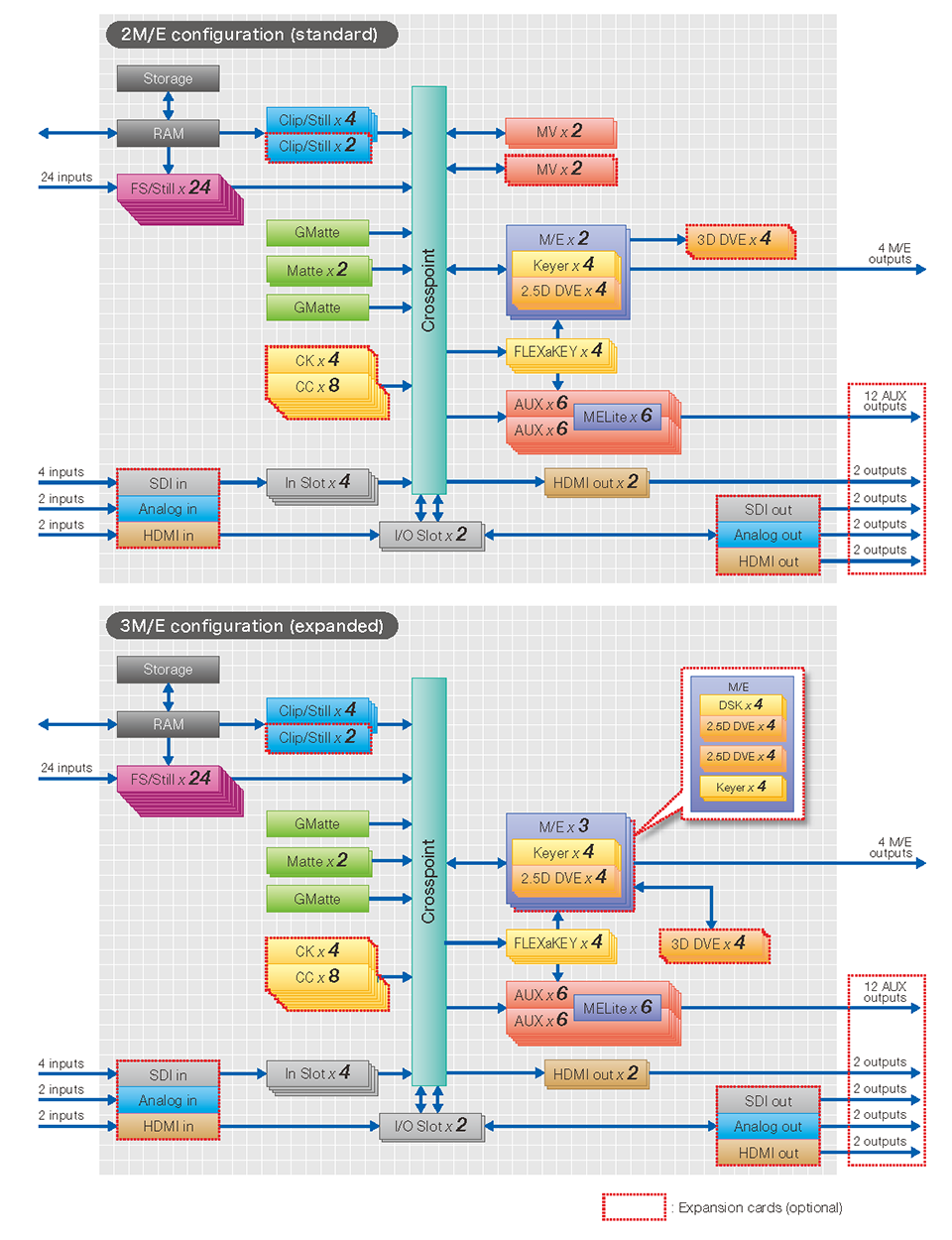 FLEXaKEY™
Powerful quad FLEXaKEY allows the operator to place keyers in practical areas of the switcher:
Add keys to traditional M/E resources to provide more graphic layers
Add keys to AUX and multiply additional M/E's (MELite)
Can also expand and multiply AUX bus transitions
MELite™
This powerful, distinguishing and core feature allows a traditional AUX bus to transform into a full functional M/E with cuts, mixes, wipes, keys all with preview (MELite). The MELite is the building block to a real full-function 6M/E switcher and can be assigned upstream or downstream from main mix effects. Also, MELite allows operators to configure a 3M/E switcher with a 3 rows control surface that provides independent output with transitions to display sources on back monitors in the studio.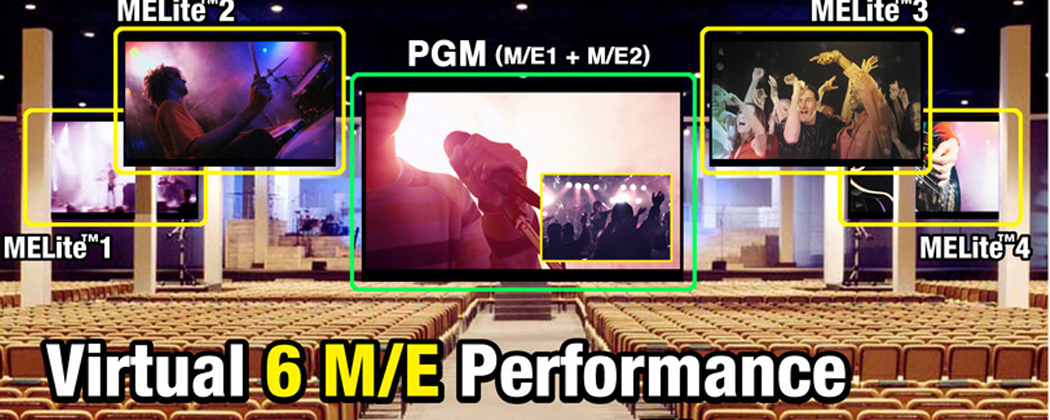 Application Examples
Recapturing

Independent output with transition function and keyer allow sources to be displayed to the studio back monitor.

Multiple image display wall

4 outputs of MELite allows operators to control a multi-display wall as if it were a single display. Graphics can be displayed over a large video wall canvas and transitioned over the quad background.

Running multiple programs

Connecting a small control panel allows a single unit to supply dual operation and share all resources between two suites.

2 M/E switcher x 2

Using MELite + M/E 1 in pairs, and MELite + M/E 2 in pairs, the HVS-2000 can be transformed into two 2 M/E switchers.

Multiple language programs

With bus and key linking, the unit is able to function in a multi-language operation. Language B will follow Language A, displaying the same sources and programed graphics as Language A output with different language.

Simple 3 M/E

Operators can deploy MELite as a third-M/E, transforming the switcher into a 3M/E switcher. The third M/E can be a source for M/E 1 and M/E 2. MELite can also compose M/E 1 and M/E 2.

6 M/E switcher capability

2 M/E + 4 MELite with FLEXaKEY architecture allow the system to be utilized as a 6 M/E switcher.
ONStage™
ONStage is an extremely powerful capability, exclusive to FOR-A! With ONStage mode and our agile MELite, operators can now preview the MELite before mix, wipe and keying. In addition, operators can assign multiple MELites so the operator has delegable manual lever arm transition control and assign keyer functions. With MELite and ONStage any staging venue can operate a main center Program display and operate multiple independent Image Magnification displays. Never before has this sort of power and creativity been offered to video professionals.

Midas Touch™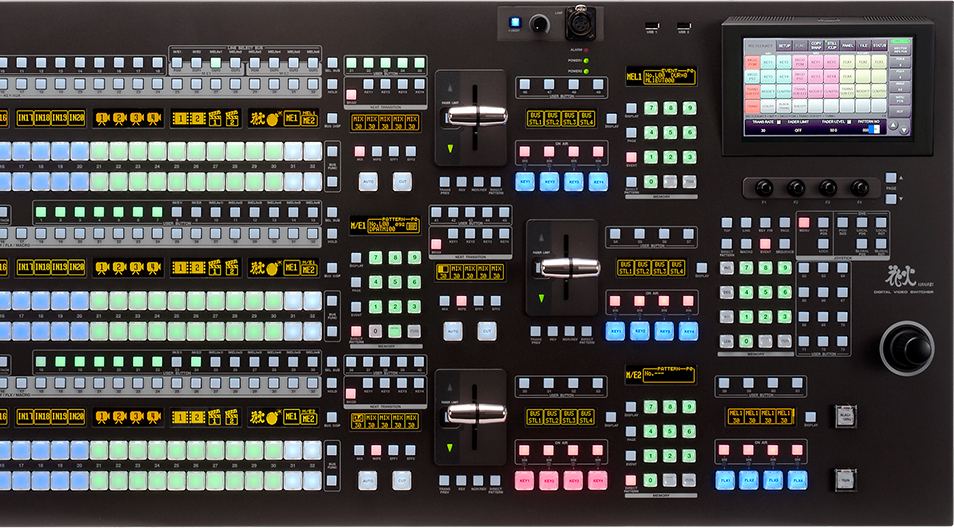 A new menu system that allows operators to easily configure and change system parameters, offering full system control, using both a built-in 7-inch touch panel (MiniMenu™) with thumbnail display and external monitor.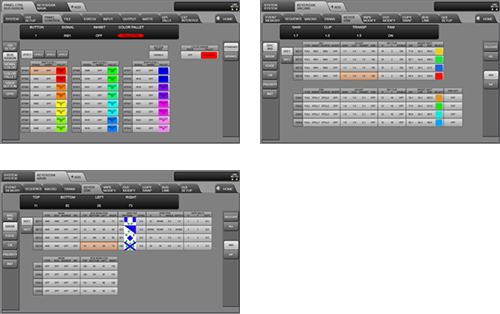 P-MEM™
P-MEM is capable of saving and recalling full switcher set-up or series of operations on M/E, MELite and AUX. P-MEM can be used with macro functions and operators only need to push one button to perform a complex series of events.
Up to 48 in/18 out or 40 in/22 out (optional)

The HVS-2000 supports 24 inputs/18 outputs including 2 HDMI outputs as standard. Installing 6 HVS-100 series optional cards allows up to 48 inputs/18 outputs or 40 inputs/22 outputs to be supported for use in mid-range system configurations, and allows the support of SD/HD/HDMI/Analog/VGA signals.
The bottom 6 slots on the rear panel are dedicated for I/O expansion. Up to 6 input expansion cards can be installed into the slots, with up to 2 of the slots available for output expansion cards to be installed.
4 Multi viewers
(standard: 2, up to 4 MVs, and 64 windows)

The built-in multi viewer supports 2 outputs as standard and can be expanded up to 4 outputs (optional). 12 layout patterns are available including 13-split view. Able to assign different layouts with different sources to each output, providing an optimal monitoring environment for dual operation.
4 Keyers per M/E, and 4 x FLEXaKEYs
The HVS-2000 has 12 keyers total: 4 for M/E 1, 4 for M/E 2 and 4 FLEXaKEYs. Each keyer from M/E 1 and M/E 2 can be a chroma keyer but keyer from M/E 1 and M/E 2 cannot be applied to MELite. FLEXaKEY can be applied to MELite but FLEXaKEY cannot be a chroma keyer. When assigned to M/E 2, up to eight keyers (4 keys and 4 FLEXaKEY) can be combined. DVEs are available for FLEXaKEY to generate multiple P-in-Ps. FLEXaKEY can also be assigned to an MELite bus as an upstream keyer.
8 x 2.5D DVE/4 x 3D DVEs

2.5D DVEs allow P-in-Ps to be freely arranged in 3D space using global axes, and combine exceptionally well with 3D content in virtual studio. Flying key, which moves titles with DVEs applied, is available for all DVEs and can be assigned to all resources in an M/E, whether PGM, PST, or KEY 1∼4. P-in-Ps come in a variety of other shapes besides standard shapes, such as quadrilaterals, and can be used in live sports coverage for example. The switcher's 3D DVEs include page turn and other warping effects.
Other standard features
PGM, PVW and 2 CLEAN outputs per M/E
3G/4K Ready (S/W option)
18 Auxiliary buses (2 HDMI, 12 SDI, 8 AUX transition, 6 MELite function)
Intuitive GUI software HVS-2000GUI is included which allows HVS-2000 control and settings to be configured
Control panel with LED RGB user configurable color buttons and 7-inch touch panel GUI
All inputs have FS with Still image store and capture
4 dedicated still/clip stores installed as standard with 900 frames at 1080 resolution (approx. 30 seconds at 1080i) of built-in memory. With optional expansion cards, support up to 6 still/clip stores*1 and 1080 frames at 1080 resolution (approx. 60 seconds at 1080i)*2.
*1 HVS-2000MV required.  *2 HVS-2000RAM required.