Fulfill responsibility to customers.
Decision to create an integrated system in Japan.
We do more than simply make and sell products. We provide products, solutions and support to our customers. We believe it is our mission to take responsibility in all of these areas. By establishing R&D and production sites in Japan, we have created an environment that facilitates exceptional quality and delivery management as well as swift response to customer needs and desires.
1. Research and Development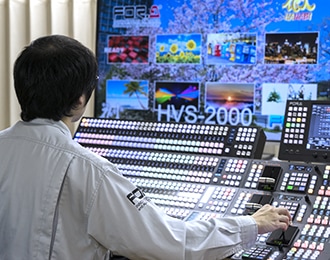 Always reflect customer opinion and drive evolution in the world's highest standard technological expertise
FOR-A is constantly seeking to drive technological innovation by liaising closely with sales bases and collecting the opinions of customers and also by anticipating future needs that have not yet been voiced. We continue to promote creativity and ingenuity even in times of turbulent change. Our aim is to enhance customer satisfaction through the development of sophisticated, high-performance products and by optimizing quality, delivery and price.
FOR-A virtual systems integrate live images and computer graphics in real time to realize diverse program production. We continue to provide industry leading solutions from both hardware and software perspectives.

FOR-A utilizes the latest 3D CAD for chassis design. In addition to confirming structural design and component interference, enhancing the degree of perfection in design shortens time required for validation and realizes smooth transition to production.
2. Production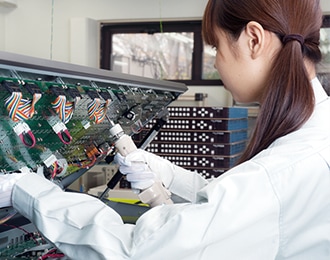 Pursuing quality that personifies the "Made in Japan" expression and ability to respond flexibly in accord with customers
FOR-A exclusively produces a diverse array of over 400 different products.
This is made possible thanks to a dedicated group of experts that enable swift response through low-volume, high-mix manufacturing based on cell production. We are also committed to meeting the confidence customers have placed in us through finely tuned quality inspection. In addition, we have introduced the latest component mounting equipment. We remain proud of our advanced production capabilities enabling us to accommodate not only our own products but also manufacturing on consignment.
FOR-A MFG Center
(Sakura City, Chiba Prefecture)

Experts are on hand to ensure successful low-volume, high-mix manufacturing

FOR-A has introduced the latest component mounting equipment and created a meticulously clean environment that does not allow even the minutest speck of dust to infiltrate.
3. Sales and System Integration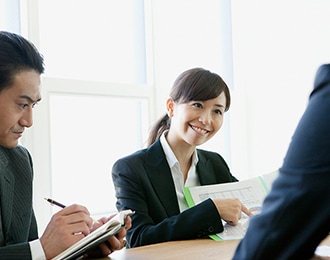 Providing truly necessary solutions through flexible proposals that transcend the framework of our products
FOR-A doesn't merely market its own products, but thinks carefully about what a customer truly needs. We are flexible in suggesting top-of-the-line products from Japan and overseas in order to satisfy a wide range of customer requirements, from individual products to integrated systems. Further, we deploy sales activities worldwide through locally incorporated companies and an international dealer network.
FOR-A not only provides its own products, but selects equipment that best meets customer requirements and suggests systems that are easiest for customers to use.

Professional technicians always take the utmost care in their work, from the system proposal stage to on-site construction and checking.
4. Service and Support
After-sales service earns plaudits in the industry:
Support capabilities on call 24 hours a day, 365 days a year
FOR-A customers in broadcasting, medical, surveillance and other markets are round-the-clock businesses that never rest. The support that FOR-A provides goes far beyond ongoing post-delivery maintenance by enabling inquiries 24 hours a day for quick response to needed repairs. We have also acquired ISO 27001 certification for our information security management system and strive to enhance our information management.