With 12G-SDI*1 or 6G-SDI compatibility across all inputs and outputs, the MFR-6100 configures a matrix of up to 144 x 144 inputs and outputs. Brings powerful support to 4K routing.
Features
Multi-format video input and output
Support for 12G*1/6G/3G/HD/SD-SDI and DVB-ASI*2 input and output. With auto signal detection, there's no need to worry about signal formats.
Video I/O Cards:Up to 16 input cards and 16 output cards, with nine channels per card
12G/6G/3G/HD/SD-SDI support: MFR-9SDI12GA(9-input) / MFR-9SDO12GA(9-output)
6G/3G/HD/SD-SDI/DVB-ASI support: MFR-9SDI(9-input) / MFR-9SDO*3(9-output)
*1 MFR-9SDI12GA and MFR-9SDO12GA are required *2 MFR-9SDI and MFR-9SDO are required *3 To be released
Features to maintain a stable system
SDI input signal error detection*4
Alerts in the GUI*5 inform the user of any SDI input signal errors (CRC/TRS). This supports solid operation as a 12G-SDI system.
*4 When equipped with MFR-9SDI12GA *5 To check error details, use a waveform monitor.
Jitter cleaning*6
Reduce jitter in SDI signals to ensure stable signals sent to downstream equipment.
*6 MFR-9SDI12GA/MFR-9SDO12GA are required
Front control panel
Equipped with a control panel for menu display. Error display possible, when needed.
SNMP support
Can be integrated into an SNMP monitoring system. Enables monitoring of various operational status, such as power, fan, and CPU status, SDI signal input*7, and crosspoint errors. If system failure and recovery occur, SNMP traps are sent to managers.
*7 MFR-9SDI12GA required
Outstanding redundancy
Can be configured with redundant CPUs and power supplies (optional). As core system components, FOR-A routing switchers can incorporate redundancy to ensure nonstop operation in case of problems.
Connectivity with other products
Can be remote-controlled through the Ethernet or serial ports. Compatibility with common protocols such as TSL and HARRIS, which enables tally linkage or auto source name tracking for crosspoint switching. Routing switcher are also integrated with FOR-A's exclusive interface to our line of HVS production switchers and standalone multi-viewers.
Offers integrated management of source name signals from MFR routing switchers, which automatically send source names toHVS Series switchers and MV Series multi-viewers.
HVS switcher tally signals are automatically sent to MFR routing switchers and MV multi-viewers for coordinated display.
Crosspoint control from both HVS switchers and MFR routing switchers.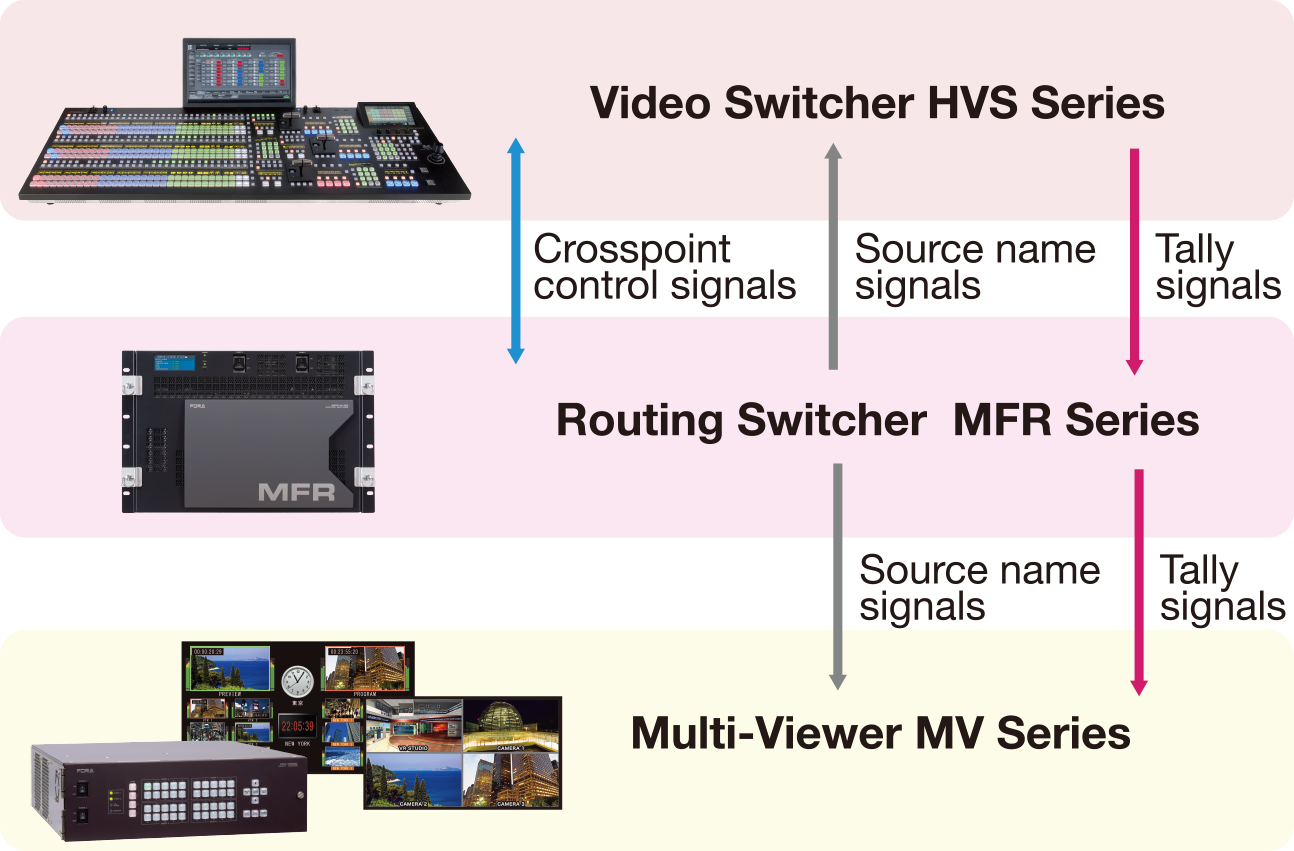 GUI-based configuration
A built-in webserver enables immediate setup without installing software on external devices.
Versatile crosspoint control
Besides typical crosspoint switching, the unit enables a variety of crosspoint control: Salvo/Take/Link/Level/Chop
Matrix partition capability
One routing switcher can be virtually partitioned to build any theoretical hierarchy, creating possibilities for use in various operations.
Application Examples
4K/8K switcher(supporting crosspoint)
4K and 8K signal switching with coordinated control of multiple crosspoints
4K/HD simul-switcher
Simulcast operations involving separate or simultaneous control of 4K and HD material
Fully independent switching
Use a single enclosure as multiple routing switchers by partitioning a configuration.
Ideal for operation equivalent to multiple units without sharing sources.
V/Key linking switcher
Divide the matrix into two partitions for coordinated control of video and key signals.
Remote Control Units
We offer several types or remote control unit to suit your application. The number of units that can be connected is a maximum of 127. This lets you build a flexible control environment by the way you partition the matrix and make operation level settings. Please refer to MFR-RU series page for the lineup and details.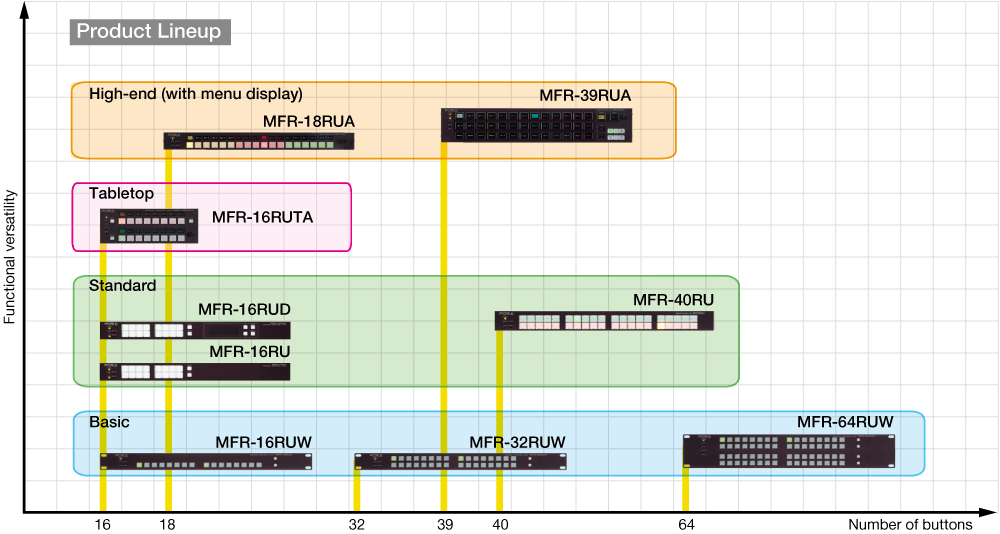 Interface expansion units
Two types of interface expansion units are available.
MFR-TALM: Tally Manager
MFR-GPI: GPI Unit