Compact and Affordable Character Generator
With its lightweight, compact design, the VTW-350HS is an extremely portable HD/SD character generator, perfect for live applications. The software provides a rich array of text/graphic functions, more than 260 transitions, template control, general-purpose file interface and more. The VTW-350HS provides all the tools required for advanced production needs, at an affordable price.
Major Features
1U size compact design, excellent for live applications. The vibration-resistant case makes it perfect for mobile and flight pack applications.
More than 260 transition functions come standard, including roll, crawl, fade in, fade out, slide and wipe.
Video input has both key and fill for capture of video with or without a key signal.
Video output provides both program and preview output, each with its own key and fill.
Multilanguage support with advanced spell check capability through Windows language options
Still frame capture capability
OpenType font support
Input/Output Screen
The VTW-350HS employs a simple, intuitive user interface integrating the input screen with the output screen.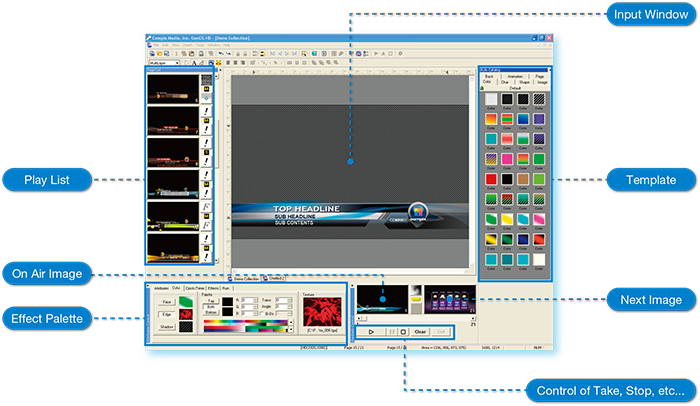 Creation & Playout
Graphic templates allow for direct text input. Templates can be created on board or imported from a variety of 3rd party software including Adobe Photoshop™. Direct Text import is also supported.
A variety of effects are available including roll for credits and crawl ticker boxes.
Multi-layered mode allows for multiple layers of graphics with adjustable priority. The levels can be transitioned as a group or layer by layer using the variety of transition effects. Multiple effects and transitions can be used on the same graphic page.
Still images can be captured and used as CG pages or as a background for text based functions.
Preview function allows control of take function from the CG to either preview or program outputs. This allows the CG operator to control live on air functions.
The scheduler function is perfect for creating timed playback of pre-created text and graphics. This is a great feature for uses such as a video bulletin board. Play back can be created on a weekly, daily or hourly basis.
Option Software: AutoCast
Featuring Intelligent Interface
Effortlessly Create and Automate Graphic Playlists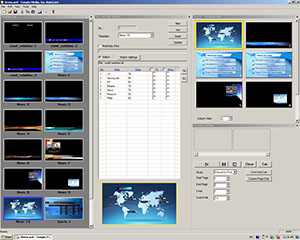 AutoCast software lets you create and automate playlists of video graphics from our GenCG software. AutoCast integrates text from external files and databases feeds into graphic templates of your choice.
Intelligent Interface enables control of AutoCast by the industry's leading broadcast, news, and PEG automation products for completely automated, unattended operation
Manual, semi-automated, and fully automated playout options
Intuitive user interface enables users to select a template, customize text and images, and control play-to-air all in one view
Support for Serial RS232 control interface with switchers and other broadcast control equipment
AutoCast API feature enables third-party automation companies and developers to creatively utilize the functionality of the live video graphics system in new and sophisticated ways
Interface to Sports Scoreboards Including Baseball, Basketball, and Football
Current Page Only Mode Enables Real-Time Update of On-Air Page
Toggle Larger Preview Thumbnail in Playback Window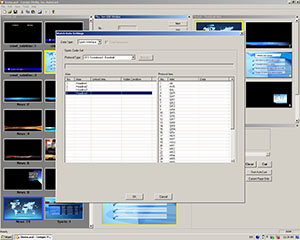 Up Your Design Power
AutoCast provides efficiency to the traditionally operator-intensive live video graphics workflow. The template-based approach allows effortless re-purposing of graphic assets, freeing up time to design the look and feel you desire.
Create Designs, Not Files
Our template approach reduces the number of iterations of similar graphics. As a result, AutoCast brings a new level of efficiency to graphic asset storage and retrieval. Changes to a particular graphic are made and saved within the AutoCast playlist, saving both revision time and storage space.
Automate Variable Text and Image Displays
Sections that need text population, such as performer and player rosters, sequenced titles, or names of on-air personalities, can be retrieved from text files set up in AutoCast or from external databases in advance of your live production or event.
Automate Dynamic Data Displays
One of AutoCast's most powerful features is the ability to change and fulfill text within a layout template using ODBC compliant databases. Dynamic text display requirements, such as sports scores, weather updates, or election results, can be automatically updated and integrated into your graphic templates in real time and played over your live video sources.
Option Software: NewsScroll 4.1
Multiple Crawls, Logos, and Much More
Channel Branding Solution for Any Production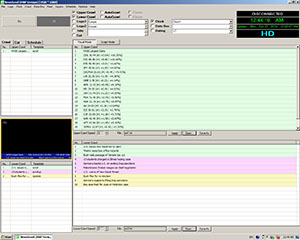 The Compix NewsScroll software provides the opportunity for multiple scrolls, logos, and more all with a single channel. This software package allows you to simultaneously display the following:
Two static or animated logos
Real-time customizable clock
Updateable Data Box integration for text and XML files
Television content ratings (static only)
Instant text update field for last minute additions
Display static GenCG pages without closing NewsScroll
Fully customizable Scheduler
Greater Flexibility
You can adjust and save the positioning of each item to any area of your video output screen. In addition, you are able to save attributes of each item for instant retrieval.
More Than Just a Crawl
Our new Rollup feature will enable you to roll up text, whereas in the previous version only crawl was available. This feature can be applied to both data streams.
Automatic Updating
In addition to the two independent crawls watching separate RSS feeds, NewsScroll can also watch a text file for upcoming information. Once the text file is modified and saved, the crawl automatically updates on its next loop cycle.