The VPS-700 "GINGA" (the Japanese word for "Galaxy") from FOR-A features completely new work flows, and is bursting with special effects that were not available until now. It paves the way for ground-breaking creativity in LIVE productions and editing suites. Be prepared to have all your ideas about video switchers shattered by the VPS-700!
Multi Layer & Multi DVE
All inputs have independent 2D DVEs (option), making it equivalent to a monstrous 32-channel DVE. Mix/Effect (M/E) transitions are combined by two independent pre-combiners, and two-channel combined outputs can be assigned to the PGM and PST buses. This means that all videos that are input to the switcher can be combined and displayed at one time. This video representation delivers dramatic impact unattainable with previous video switchers.
Maximum of 16 Input / Outputs
All inputs in the VPS-700 include a frame synchronizer (FS) that provides asynchronous input. It also features a freeze frame function using FS memory and still store, can display video captured by M/E as still video for each input, and can display CG images that were created elsewhere. Basic input includes eight SD-SDI channels, and SDI input or analog input are also available as an option. As a digital/analog mixed switcher, the VPS-700 supports expansion up to 16 inputs. Basic output provides a total of eight channels: two PGM channels, PVW, Clean, and four AUX channels. Available options include eight SDI outputs (in four-output units) or four analog outputs (in two-output units for composite). The PVW and Clean output channels can also be used as KEY OUT, and the AUX outputs including the additional outputs can be freely assigned for enabling output of the required video from a selected terminal.
M/E Bus
The M/E bus can handle switching of 16 inputs (optional configuration), 4 matte generators, 2 still stores, 2 pre-combiners, and black for a total of 25 inputs. Transitions can be selected from cut, mix, wipe, and DVEs. More than 100 wipe patterns, including swirl and other distinctive patterns, are available that enable wipe borders and positioning adjustment.
Wide Range of Still Stores
All inputs can be frozen using FS memory. The frozen images at M/E bus can also be saved built-in-storage and can be assigned using two cross-points independent from other inputs.
Input DVE Card (Pre-combiner)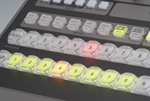 2D DVE functions are added to all 16 inputs. The position, size and rotation of each input can be adjusted, borders can be added, and the transparency can be set. The input DVE card has a pre-combiner function where inputs can be assigned as an M/E bus or key source. Also, up to 2 cards can be installed for enabling transitions to another image from each card's combined output image.
Flash Recorder Function
VPS-70FR flash recorder card (option) can be used to enable recording and playback of uncompressed SD video. Up to two cards can be installed (the slot is shared with the VPS-70DS). A single card enables a maximum recording time of 120 seconds and simultaneous playback of video with key channel for two channels. Various types of playback are also supported, including regular playback, reverse playback, loop control, and trigger control. In addition, recorded video is stored in memory so that it remains saved even when the power is turned off. This eliminates the need to make recordings at each startup.
Proc Amp / Clip Function
A process amplifier and white clip function are provided for each input as standard. This enables level and other adjustments within the switcher without the need for peripherals.
6 Keyers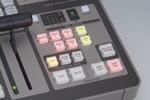 6 keyers are available in the standard configuration, and 4 keyers can select from cut, mix, wipe, and DVE transitions. The 2 DSKs enable cut and mix transitions. All keyers incorporate chroma keys using the 4:4:4 process and can perform masking with wipe patterns, edge and shadow effects, and key channel effects with assigned DVEs.
Compact Main Unit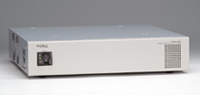 The main unit incorporates up to 16 inputs and 16 outputs, FS function, still store, Proc Amp, clip function, DVEs, keyers, and a wide array of other functions in a compact EIA 2RU size. A special main unit with a built-in redundant power supply is also available with all these functions incorporated into an EIA 3RU body size.
Compact and Instinctively Comprehensible Control Panel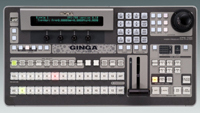 The compact and easy-to-use control panel of the VPS-700 has basic PGM/PST rows and fader levels, 3-axis joystick, parameter display, and optional touch panel controller. Despite these numerous ground-breaking functions, the VPS-700 will not overwhelm you with complicated operations.
6-channel 3D DVEs
In addition to the DVEs provided for each input channel, the VPS-700 also provides 6-channel Basic 3D DVEs. The addition of a 3D warp module option enables usage of Ripple, Swirl, Slats, Page Turn and a wide variety of other warp effects and a total of 12 lighting effects.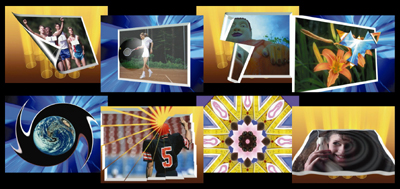 Other Features
4 matte generator available.
USB port on operation unit for support of memory devices (up to 2GB).
Enables saving of 100 patterns of sequences containing 32 settable key frames.
96-event memory can be called using 8 pages x 12 direct buttons.
Incorporates 3-serial port for control and other operations from an editing device.
Free assignment of 8 GPI inputs and 24 tally outputs.
VPS-700RPS: Redundant power supply model also available.
Others
VPS-70SDI: 4-input SD-SDI Expansion Card
VPS-70AI: 2-input Analog Video Expansion Card
VPS-70SDO: 4-output SD-SDI Expansion Card
VPS-70AO: 2-output Analog Video Expansion Card
VPS-70WARP: DVE Warp Engine Module
VPS-70DPUIF: Touch Panel Display Interface
VPS-70DPUA: Touch Panel Display Unit
VPS-70DS: Input DVE Card (Pre-combiner)
VPS-70FR: Flash Recorder card
HVS-AUX16: 16-button AUX control panel
HVS-AUXRK: AUX panel extension kit
PC-3168-1: Connection Cable