*This information is as of April, 2022. All specification and contents are subject to change without prior notice.
Multi-format routing switcher which supports 3G*/HD*/SD*-SDI, DVB-ASI*, MADI*, AES/EBU* and analog audio*.
The MFR-3100EX is 4RU-sized unit and configures a matrix of up to 64 x 72 inputs and outputs. Multiple units can also be used together as versatile core system components, enabling matrix expansion and redundancy.
* Optional
Multi-format supported
Multi-format video input and output, and MUX and DEMUX audio are available.
Support for 3G*1/HD*1/SD*1-SDI and DVB-ASI*1 input and output. No need to worry about signal formats, thanks to auto signal detection. Add up to 8 inputs cards and up to 9 outputs card, with 8 channels per card. Can mix and match non-SDI modules as needed. Optimizes the system to install frame synchronizer function*2 for input, and ADVL function*2 and SRC function*2 for outputs. Audio MUX and DEMUX functions*1 also offer greater video and audio compatibility.
*1 Optional. *2 Optional, to be supported.
Gearbox Functionality
Versatile signal conversion: 4K conversion (12G/Quad Link 3G, 2SI/SQD)
Add the MFR-8SDIGB and MFR-8SDOGB cards for conversion of video (Quad Link 3G-SDI/12G-SDI) and mapping (2SI/SQD) formats. These options open the door for equipment previously incompatible with 12G-SDI, enabling system building focused on this new specification.



Applications

Connectivity with other products
Connectivity with other products including FOR-A video switchers and multi viewers via ethernet or serial ports. MFR routing switcher crosspoints can be controlled from HVS video switchers and HVS and MFR exchange tally information with each other. Integrated management of source names by MFR, which automatically send source names to HVS and MV multi viewers. Source names and tally linkage between MFR and MV are controlled by TSL protocol.



Multi viewer output function
Up to 2 outputs/16 split-windows are available with an optional MFR-16MV installed. Unlike conventional systems that require allocation of 1 output per window displayed by an external multi viewer, this functionality reduces multi viewer output allocation to 1 output per monitor. Up to 16 split-windows and 2 types of clock display are supported.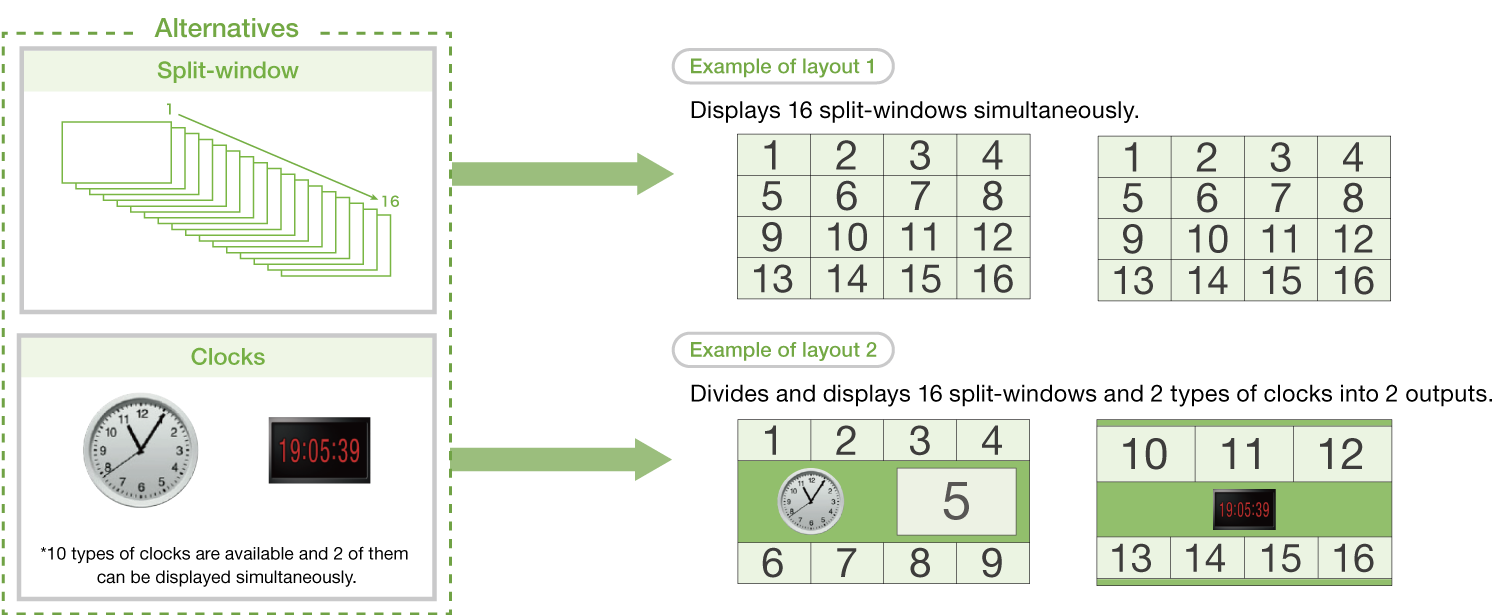 Features
Improved usability
GUI-based configuration
A built-in webserver enables immediate setup without installing software on external devices. With a dedicated GUI, settings can also be configured in an offline environment*.
*To be supported.
Versatile crosspoint control
Besides typical crosspoint switching, the unit enables a variety of crosspoint control.
- Salvo
- Take
- Link
- Error-proofing (Inhibit, Lock)
MFR-LAN
Ethernet port connects MFR series options. Enables the connection of up to 128 units, including the main unit.
- MFR-RU Series: Remote Control Unit
- MFR-TALM: Tally Manager Unit
- MFR-RULINK: Remote Control Relay Unit*
- MFR-GPI: Interface Expansion Unit
*To be supported.
Features to maintain a stable system
Outstanding redundancy
As core system components, FOR-A routing switchers can incorporate redundancy to ensure nonstop operation in case of problems.
- Redundant power supply (optional MFR-31PS)
- Redundant control board (optional MFR-31CPU)
- Redundant ethernet (remote control) (optional MFR-31CPU)
SNMP and browser-based monitoring
Serving as an SNMP agent, the MFR 3100EX can simultaneously send traps to two SNMP managers for monitoring information about all devices connected to the MFR-LAN. Video of all input channels can also be monitored in a web browser.
Enhanced Feature Set Expands Potential Applications*1
Supports NDI® and NDI®|HX sending/receiving (video, audio and tally)*2.
SSD can be installed. It enables recording/playing video and audio.
In addition to existing hard panels, commands and GPI controls, soft panels can be used for control. The soft panel enables cross point control, camera control and recording/playing from the internal SSD.
Video switcher function (MIX, WIPE, MV, DSK).
Video streaming function.
*1 Optional, to be supported. For details, contact your FOR-A dealer. *2 NDI is registered trademark in the United States and other countries.