The most user friendly slow-motion replay system on the market.

Envivo Replay is the new standard for intuitive and ergonomic design. Employing the flexibility of add-on features, it creates a superior and revenue-generating workflow. No other system beats the ease of use of Envivo's touch interface, which blends seamlessly with its optional hardware controller. Let Envivo take your live replays to next level of innovation.

Applications
Envivo Replay is used for practice and player performance review.Its user-friendly touch screen interface allows coaches and students to become replay operators with no training.

It's so easy to create slow-motion playback/highlight clips with the intuitive and simple workflow of Envivo Replay. Immediate replays with multi-angles provide a far more engaging fan experience.

Envivo Replay plays a key role in capturing the action and delivering footage to the web and social media, as well as in-stadium screens. With Envivo Replay, you can reach your audience, with either a live or recorded workflow.
Features
Easy-to-use touch screen interface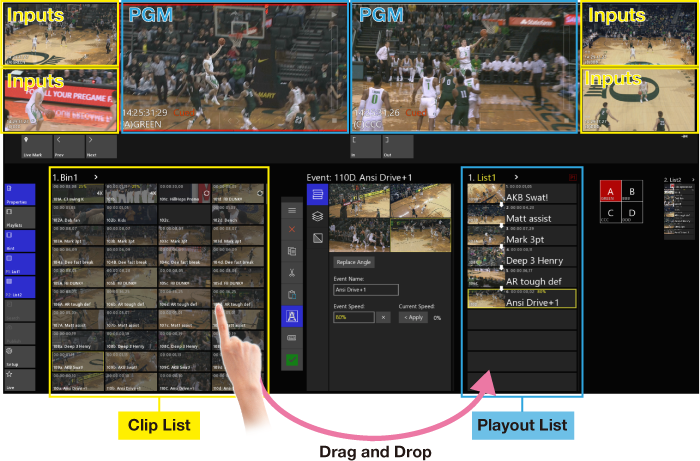 If you can use a touch screen, you can run Envivo Replay. The main UI layout allows for multiple Clip Bins and Playlists to be viewed simultaneously, as well as access to useful tools from the Tool Bar.
Branding with logos/sponsors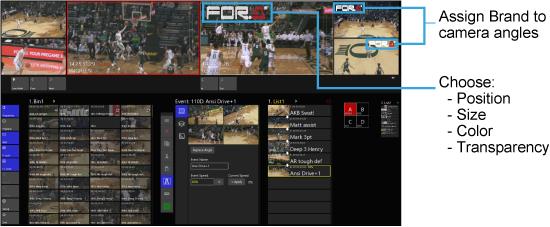 Adding a logo to your content is quick and easy. Bmp, png, and jpg files can be imported for graphic overlay on each input/output.
Monetize your content
High-return sponsorship sales
Reoccurrence of the brand
Branding is easily tied to the event
Post to social media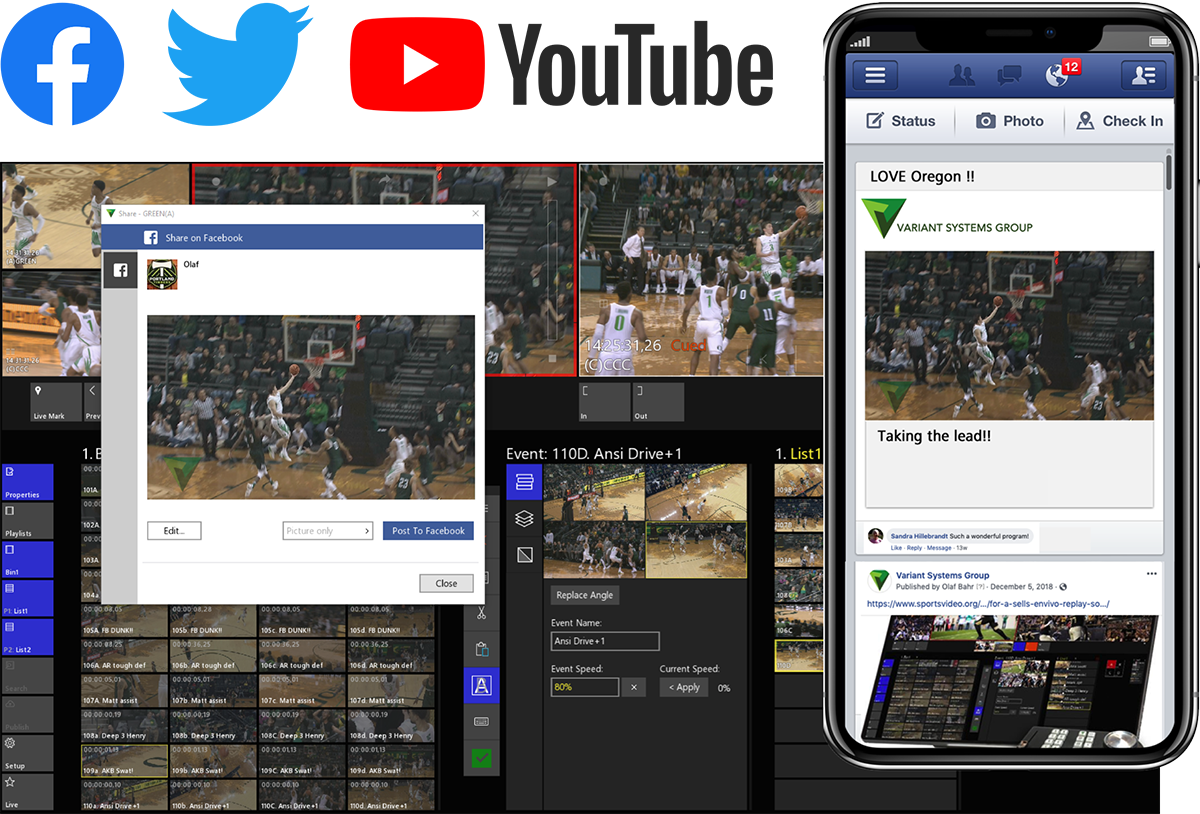 Push contents directly from capture to your social media outlets. Post ahead of your fans, show the world the best shots, and put your personal brand on it.
Winning fan engagement
Manage social media posts instantly
Delivery to current fan base
Reach extended fan base (friends of friends)
Multi-format support: 720/59.94p, 50p, 1080/59.94i, 50i, 1080/59.94p, 50p, 24p, 23.98PsF.
Multiple camera inputs support: 1 to 6 inputs and mix formats, or integrate NDI sources.
2x, 3x or 4x super slow-motion.
NDI In and Out.
Dante Audio In and Out.
24/7 feed record.
Build two playlists at the same time.
Modify playlists as they play.
Real-time processing. No rendering needed.

Dante® is registered trademark of Audinate Pty Ltd.
NDI® is registered trademark of NewTek, Inc. in the United States and other countries.
QDCAM Integration
Build an affordable slow-motion system. Create slow-motion clips or video with slow-motion sequences. Learn more about QDCAM.
Supported formats: 240p, 239.76p, 200p.
Up to 4× slow motion input.
Accepts mixed slow-motion and normal-speed input.
Lineup
Envivo Replay 3G
Supports 3G/HD-SDI.
Selectable up to 8 channels (6 inputs/2 outputs) or 6 channels (4 inputs/2 outputs).
I/O configuration.
Up to 8 channels: 1x1, 1x2, 2x1, 2x2, 3x1, 3x2, 4x1, 4x2, 5x1, 5x2, 6x1, 6x2
Up to 6 channels: 1x1, 1x2, 2x1, 2x2, 3x1, 3x2, 4x1, 4x2
Compact 2RU server.
Easy to carry with optional dedicated case.
Envivo Replay 12G
Supports 12G/3G/HD-SDI.
Up to 6 channels (4 inputs/2 outputs).
I/O configuration.
1x1, 1x2, 2x1, 2x2, 3x1, 3x2, 4x1, 4x2
3RU server.
Options
Optional slow-mo controller

The "Wedge"
Ergonomic and rugged
Customer Stories
Customer Stories
"It was simple to archive all the racetracks in the Envivo system. The only thing we spent time learning was the sequence that would work best for the production team. The system is very intuitive and smart. And the company's technical support is top notch. We've been very impressed so far with Envivo. Read more…

Guillermo Burgos, Vice President & Executive Producer, Sellitto Video Systems (SVS)

"We envision this new unit being used very much for social media content creation and promotion and to get more video out in-game. Being able to brand and playout all in one system is a huge plus for us. It also gives us an opportunity to train our students before they start providing replay feeds to our ESPN shows. Read more…

Thomas Delves, Director, Bronco Productions (the video production unit in Western Michigan University)