IP Gateway module for IP to IP, IP to SDI, or SDI to IP conversion
Video-over-IP module for Universal System Frame USF-212AS/212BS. USF-10IP Series converts video and audio signal between IP formats (SMPTE ST 2022-6/ST 2110) and between IP and SDI. Compatible with 4K (2SI/SQD) and multi-format input and output.Dual 10 GbE (SFP+) module can be installed supporting hitless operation.
For details, contact your FOR-A dealer.
Features
Baseband and IP Hybrid System
For an IP system, the SMPTE ST 2022-6 standard is mainly used in transmission. In a production system, SMPTE ST 2110 is the most commonly used standard. In the future, baseband and IP, as well as SMPTE ST 2022-6 and SMPTE ST 2110 may be mixed for production applications. With the USF-10IP series, IP and baseband interconversion, SMPTE ST 2022-6 and SMPTE ST 2110 interconversion is also provided.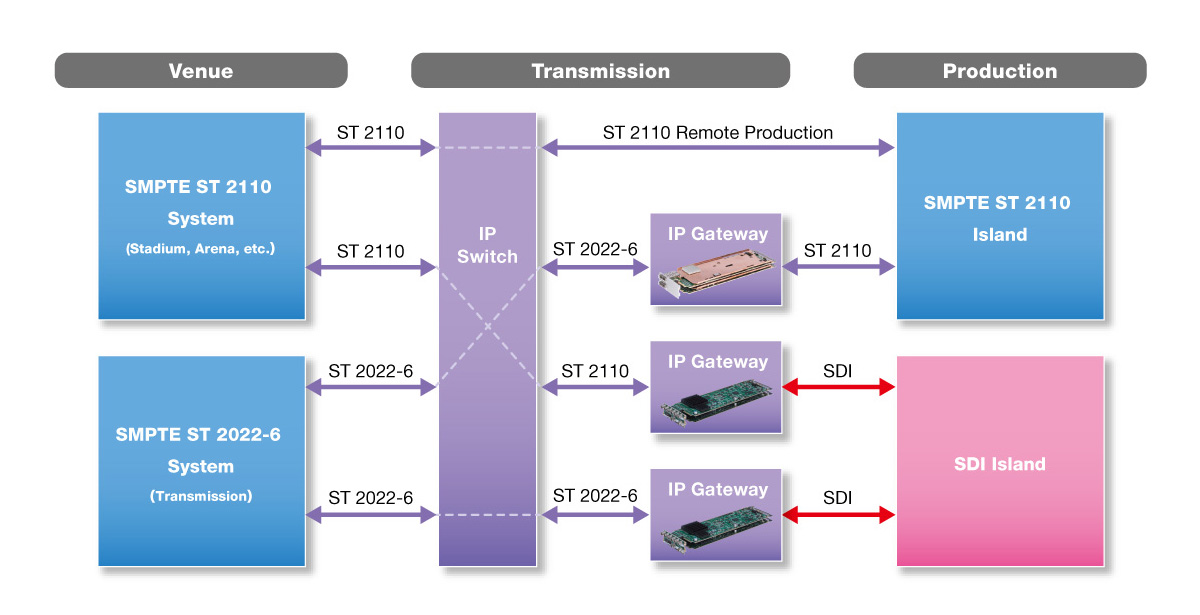 USF-10IP Series Lineup
USF-10IP-TRC
Four 10 GbE (SFP+) port supports hitless operation for redundancy
Converts to other encapsulation modes
Encapsulation modes: SMPTE ST 2022-6/7, SMPTE ST 2110

USF-10IPSDI6-FS
Dual 10 GbE (SFP+) port supports hitless operation for redundancy
1-input/1-output 12G-SDI*
6-input/output 3G/1.5G-SDI
2SI/SQD conversion* , Level A/B compatible*
SMPTE 2022-6 (uncompressed): Simultaneous conversion of up to 6 inputs and 6 outputs (6 streams)
Encapsulation modes: SMPTE ST2022-6/7, SMPTE 2110
TICO codec support (SMPTE ST 2022-6)*

USF-10IPSDI12-FS
Dual 10 GbE (SFP+) port supports hitless operation for redundancy
1-input/1-output 12G-SDI*
12-input/output 3G/1.5G-SDI
2SI/SQD conversion* , Level A/B compatible*
SMPTE 2022-6 (uncompressed): Simultaneous conversion of up to 6 inputs and 6 outputs (12 streams)
Encapsulation modes: SMPTE ST2022-6/7, SMPTE 2110
TICO codec support (SMPTE ST 2022-6)*