IP Ultra Latency, A/V & Data Together, Secure & Simple Operation


The Revolutionary IP Flexible & Customizable Solution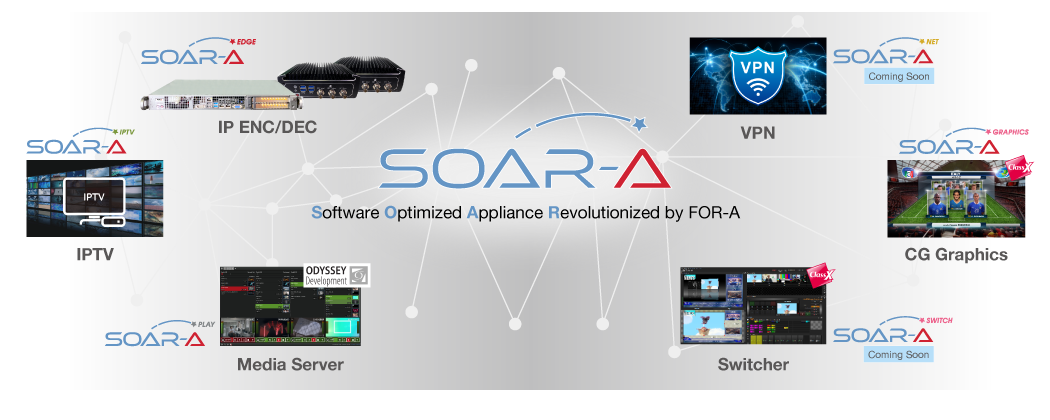 Ultra Low Latency
realized by optimized software architecture and broadcast quality unique OS

Multiple Video, Audio and Data
can be securely transferred packed together bi-directionally with simple set up

SD, HD, 4K & NDI to SMPTE ST2110 :
Flexible and customizable configuration and channel expandability

Streaming via WebRTC to Any browser & Anywhere

No gateway, no specific players needed. Targeted contents can

be seen anytime, anywhere, anybody

Solution Line Up

IP Transport Appliance
IP transport appliance solutions, which realize ultra low latency under highly secured platform. It could be perfect for not only just IP ENC/DEC, but also especially, REMI application, by flexible, expandable and upgradable architecture.


Multiple video, audio transfer
SDI, NDI®, variety of streams such as WebRTC, WebM, HLS/DASH, CMAF, MP4
Ultra low latency preview with WebRTC
Adaptive bitrate streaming
Powerful RIST tunnel
Point-to-multipoint including multilink and multicast
Seamless switching without glitching between stream copies based on 2022-7
Load balancing (Bonding) for faster connection
Secure connection with PSK (Pre-Shared Key) supplemented with SRP (Secure Remote Password) and DTLS (Datagram Transport Layer Security)
Packet recovery (upper loss threshold=40-55%)
Simple and flexible VPN to connect multiple sites
SOAR-A EDGE Mini
Assignable 2ch/Compact/FAN less

SOAR-A EDGE Server
4ch to up to 16ch/1RU server/Redundant power supply

IPTV Distribution Service
IPTV is IP distribution service, which provide ultra low latency and scalable streaming on cluster for anyone to monitor anywhere, any browser.

Ultra low latency WebRTC streaming
Highly scalable WebWTC streaming on clusters
Live video monitoring and surveillance(Monitor your ONVIF IP Cameras with ultra-low latency on your web browser. No need to install any custom software.)
7/24 camera recording
Revolutionary Ease of Use Production Graphic Engine

Revolutionary Ease of Use Multi Channel Media Server


System Example: SOAR-A EDGE


Simple Remote Production


Connecting a remote camera location to your broadcast studio using a SOAR-A allows you transmit SDI/NDI/IP video channels configured as either Encode or Decode. Each RIST Tunnel can carry up to ten streams of multiplexed media and send to up to ten peers.
Adding VPN function allows additional network ports for control and intercom signals. This enables a simple network architecture that passes all traffic through a single set up UDP ports.


System Example: SOAR-A EDGE


Advanced Remote Broadcast Production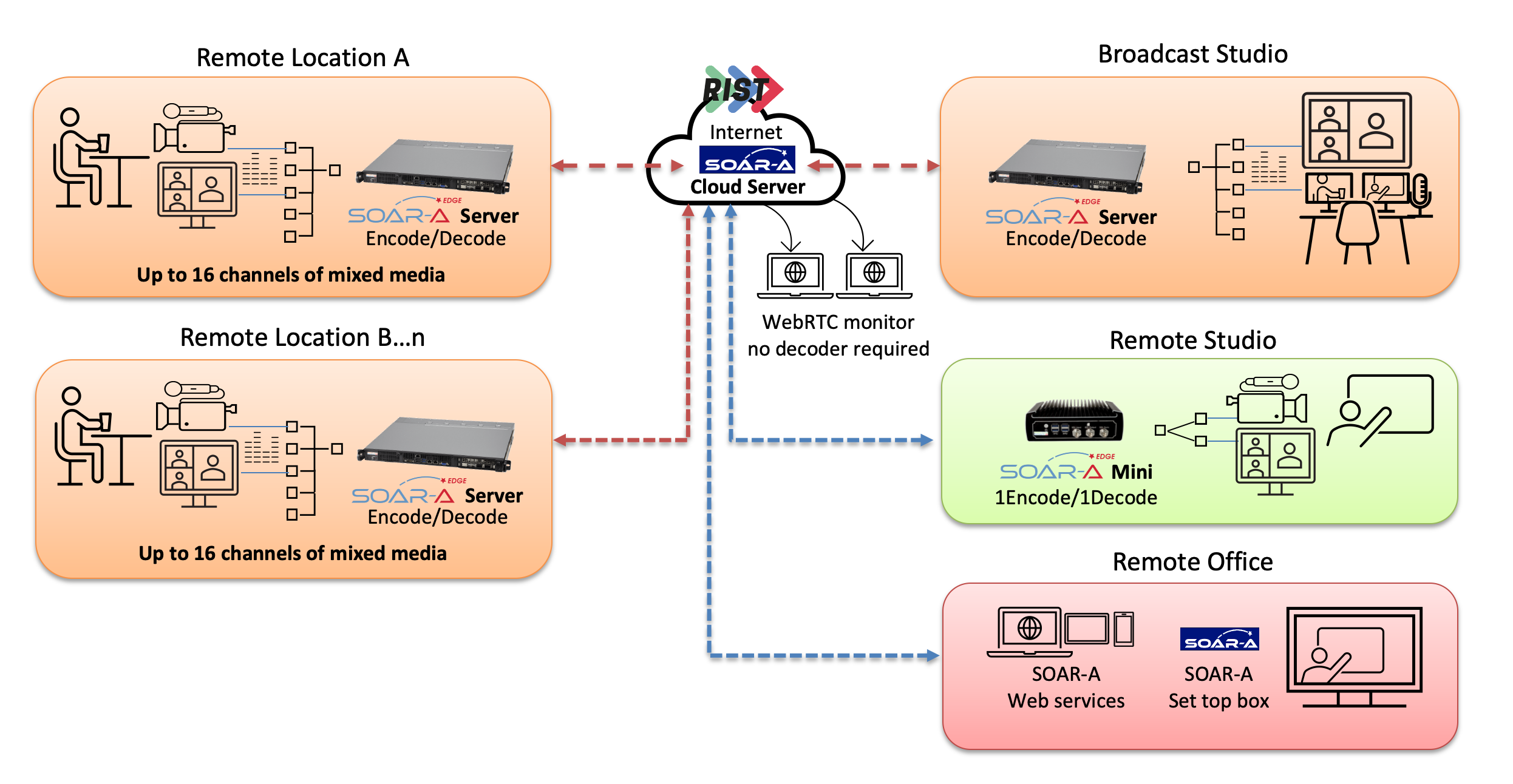 In this example we are using SOAR-A to provide more bi-directional media channels and a cloud router to send the signals between multiple studios and remote production offices.


System Example: SOAR-A IPTV


Simple IPTV Production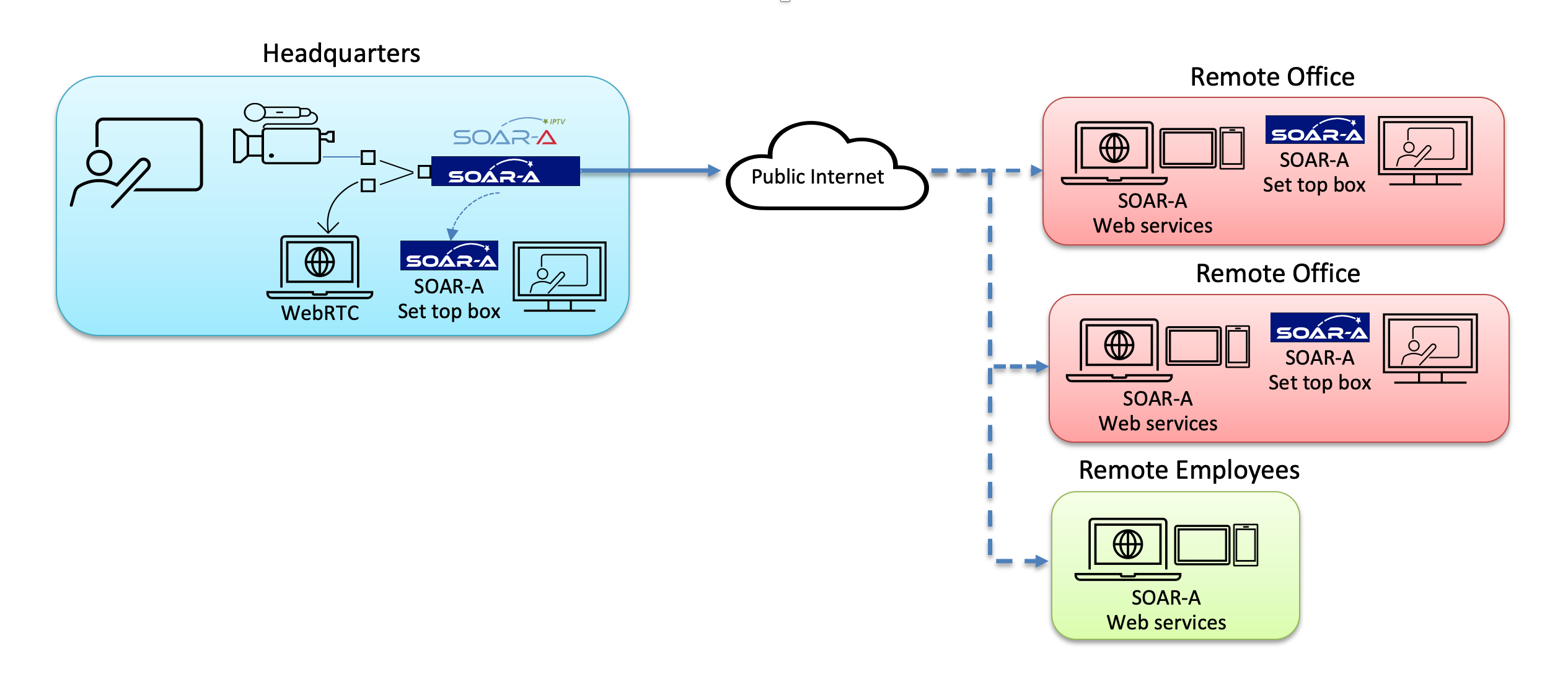 Connecting a remote camera location to your broadcast studio only requires a single device located at the meeting head end. The meeting feed may be received by SOAR-A set top boxes at each remote office, which allow viewing on dedicated displays. Or viewers may view the meeting via web GUI on standard computers, tablets and phones.

Application by Segment
Broadcast

- Contribution/distribution
- Live sports remote production
- Local interview to station
- IPTV to view contents anywhere

Corporate

- Event remote production
- Live high-quality distribution
- Hybrid IP base event
- Nation and worldwide streaming distribution
NDI® is a registered trademark of Vizrt Group.