Affordable High-Speed Box Camera for Sports
The QDCAM system consists of a high frame rate / slow motion box camera, camera control unit, slow-motion video production server, and long-distance transmission system ideally suited for capturing sports or similar high-speed action. The camera boasts a global shutter CMOS sensor, a micro-four-thirds lens mount, and fan-less design to improve weather resistance. The QDCAM product line was selected as the 2022 NAB Show Product of the Year in the Monitoring and Measuring Tools category.

High-Speed Shooting
With 1920 × 1080 pixel FHD resolution, 4 × speed shooting at 239.8 fps or 200 fps is possible. In combination with a slow-motion server, smooth slow-motion playback can be performed, making high-precision sports analysis possible.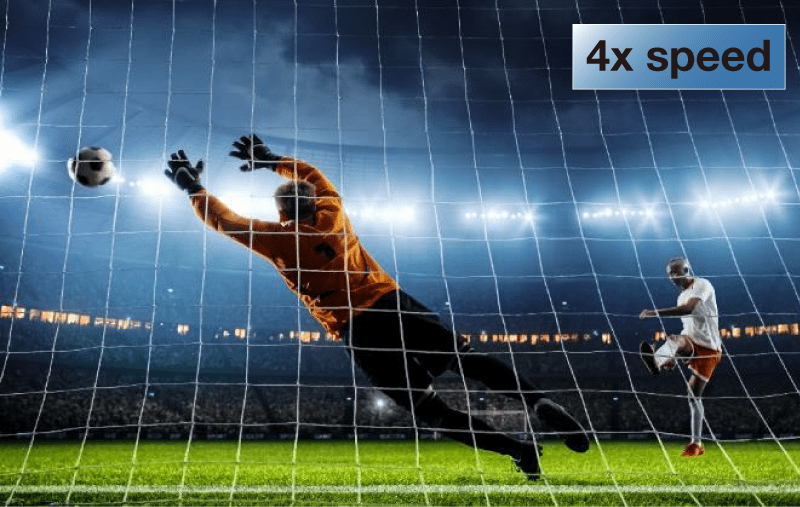 High-Resolution Shooting
3840 x 2160 / 59.94fps, 50fps
4096 x 2160 / 24fps, 23.98fps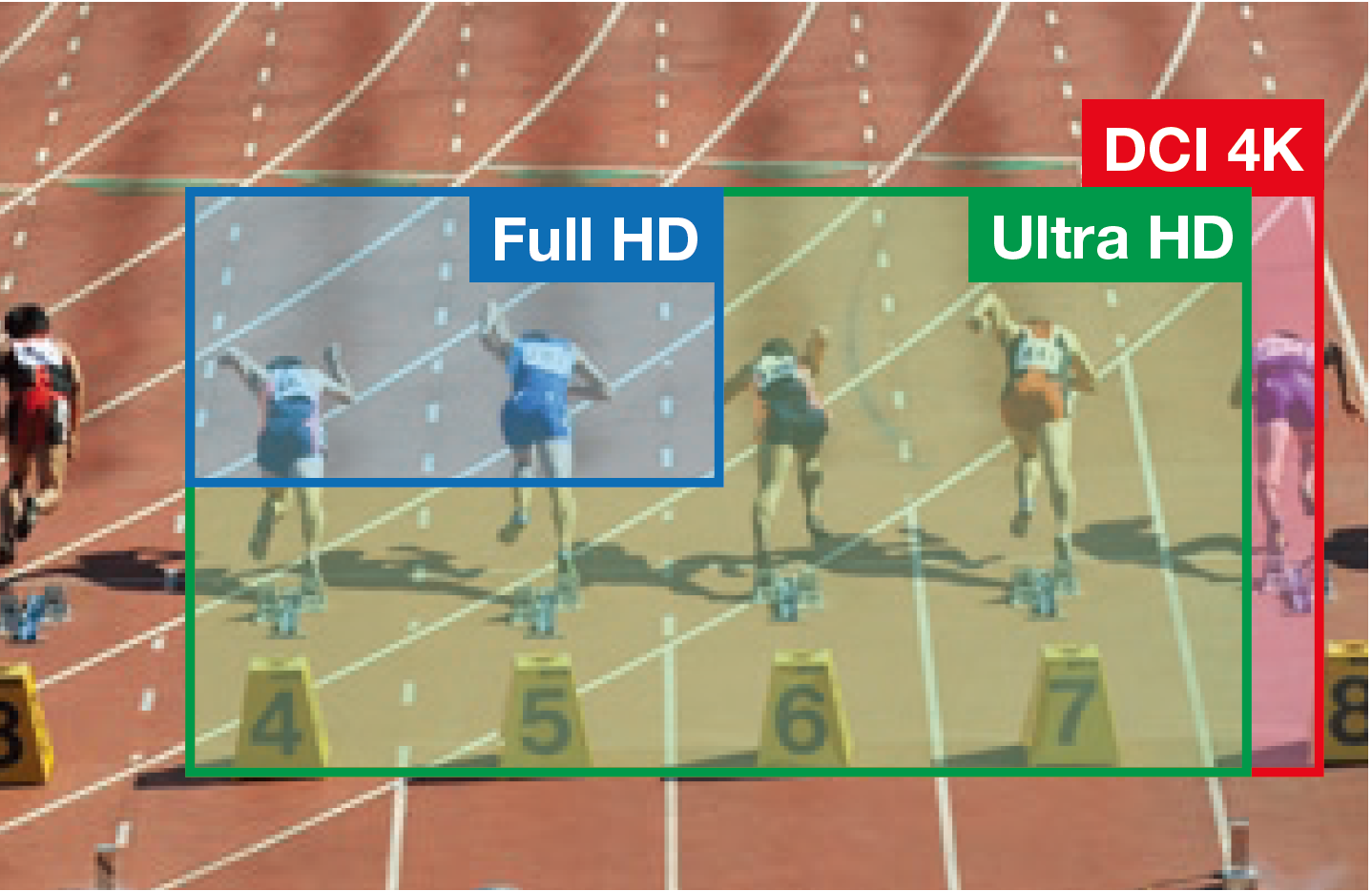 Global Shutter CMOS Image Sensor
Global shutter image sensor provides excellent picture without rolling shutter distortion in a quick moving object. Global shutter sensor is suitable for sports shooting.

Micro Four Thirds Lens System
High picture quality with affordable price
Capability of Iris/Focus remote control
Various kinds of lenses can be used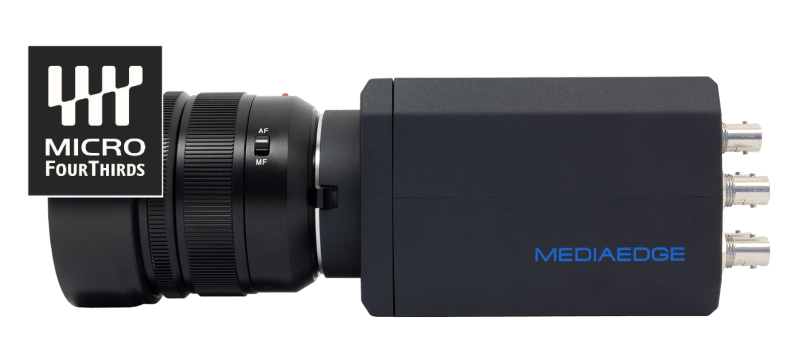 High-Precision Multi-Camera Synchronized Shooting
【Patented】
Multi-Camera Synchronizing Exposure System
The exposure timing of multiple cameras can be synchronized with high-precision without being affected by differing camera cable lengths. This allows the video from multiple cameras to be frozen simultaneously, preventing any timing deviation when switching to a video from a different angle. This also can improve the calculation accuracy of automatic sports referee systems which use images from multiple cameras.


Multi-Camera High-Speed Video Synchronizing Playback System
When linked with a QDVS recorder/player, high-speed video from multiple angles can be synchronized for slow-motion playback or frame-by-frame playback, allowing the video to be checked for sports referee calls.

Optical Transmission Using a Fiber Optic Camera Cable
You can use optical transmission system using SMPTE standard fiber optic camera cables which are installed in stadiums and other facilities frequently used for sports broadcasting.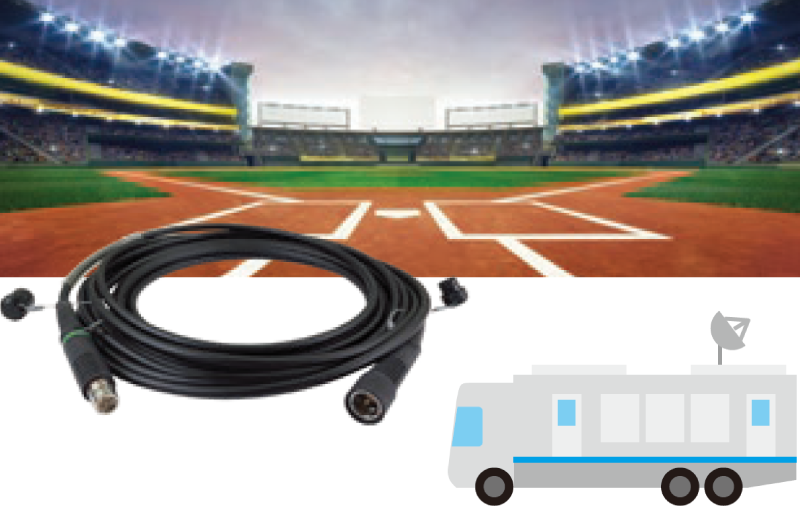 Remote Camera Operation Using a LAN/IP Network
Box cameras for city view, weather view or other purpose, installed in a distance, can be controlled remotely by PC through an IP network.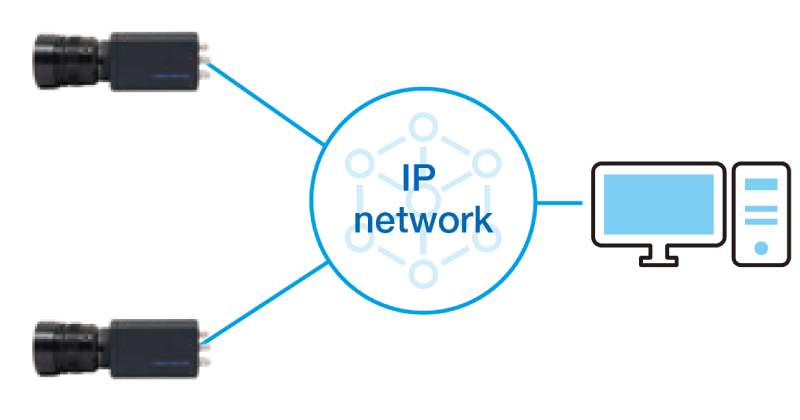 Example of System Configuration
Basic System
A simple system can be used as long as it is within the range that can be connected using a 3G-SDI coaxial cable with the maximum allowable length.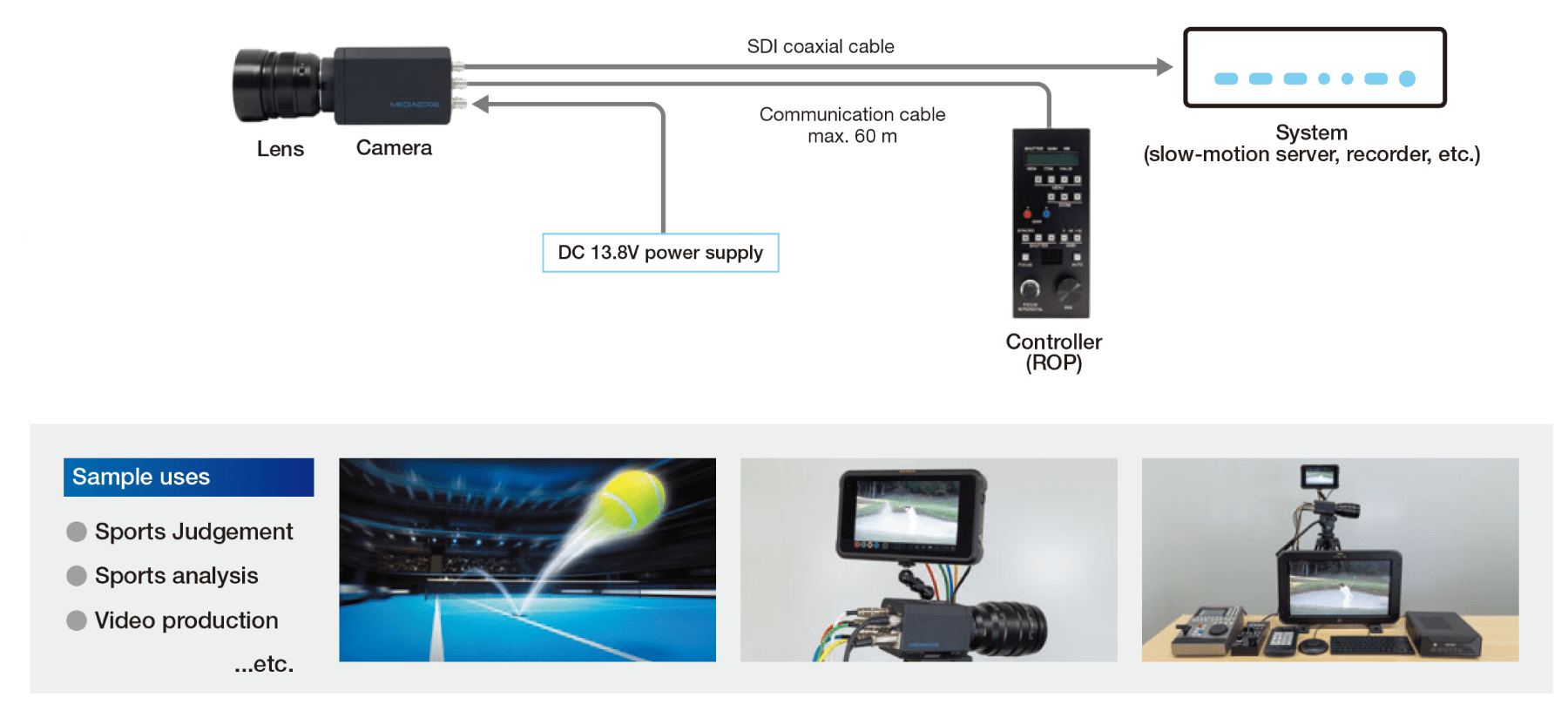 Fiber Optic Camera Cable Transmission System
When operating in a stadium for sports broadcasting, or in cases where transmission over a large distance is required such as when using an OB van, optical transmission system can be used. When supplying power to the camera via the optical camera cable, the maximum camera cable length is 500 m. When power is supplied directly to the cam-site unit, the maximum length can be extended to 2,000 m.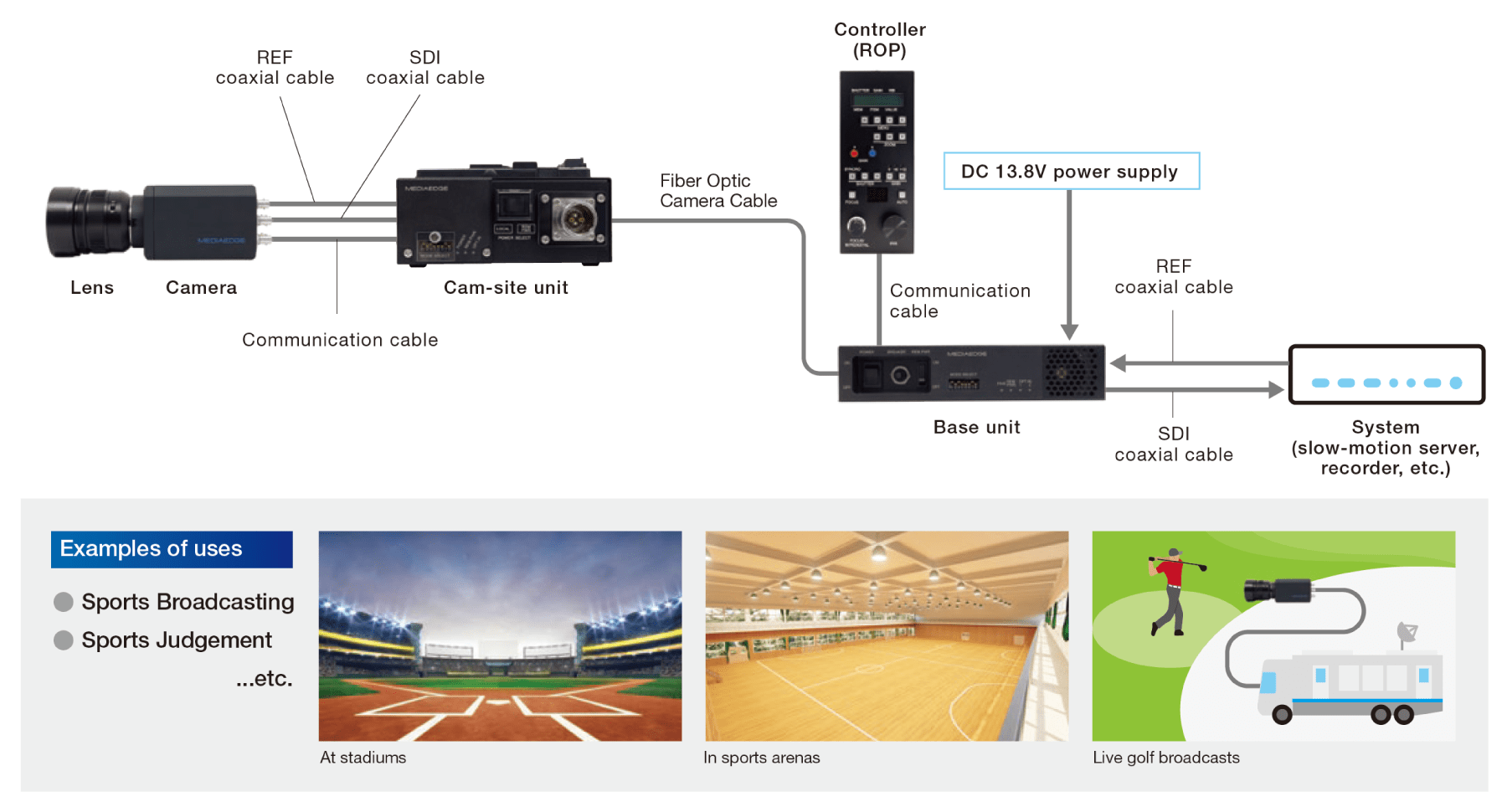 Multi-Camera Central Control System
Remote control via an IP network is possible by performing LAN conversion of the RS-422 communication line used for camera and lens control. A QDCAM control app for Windows PCs is available, and up to 99 cameras and lenses can be controlled from a single Windows PC. The QDCAM control app allows independent control of each camera, as well as central control of a specified camera group. Cameras can also be identified by IP address, and controlled using the QDCAM controller (ROP).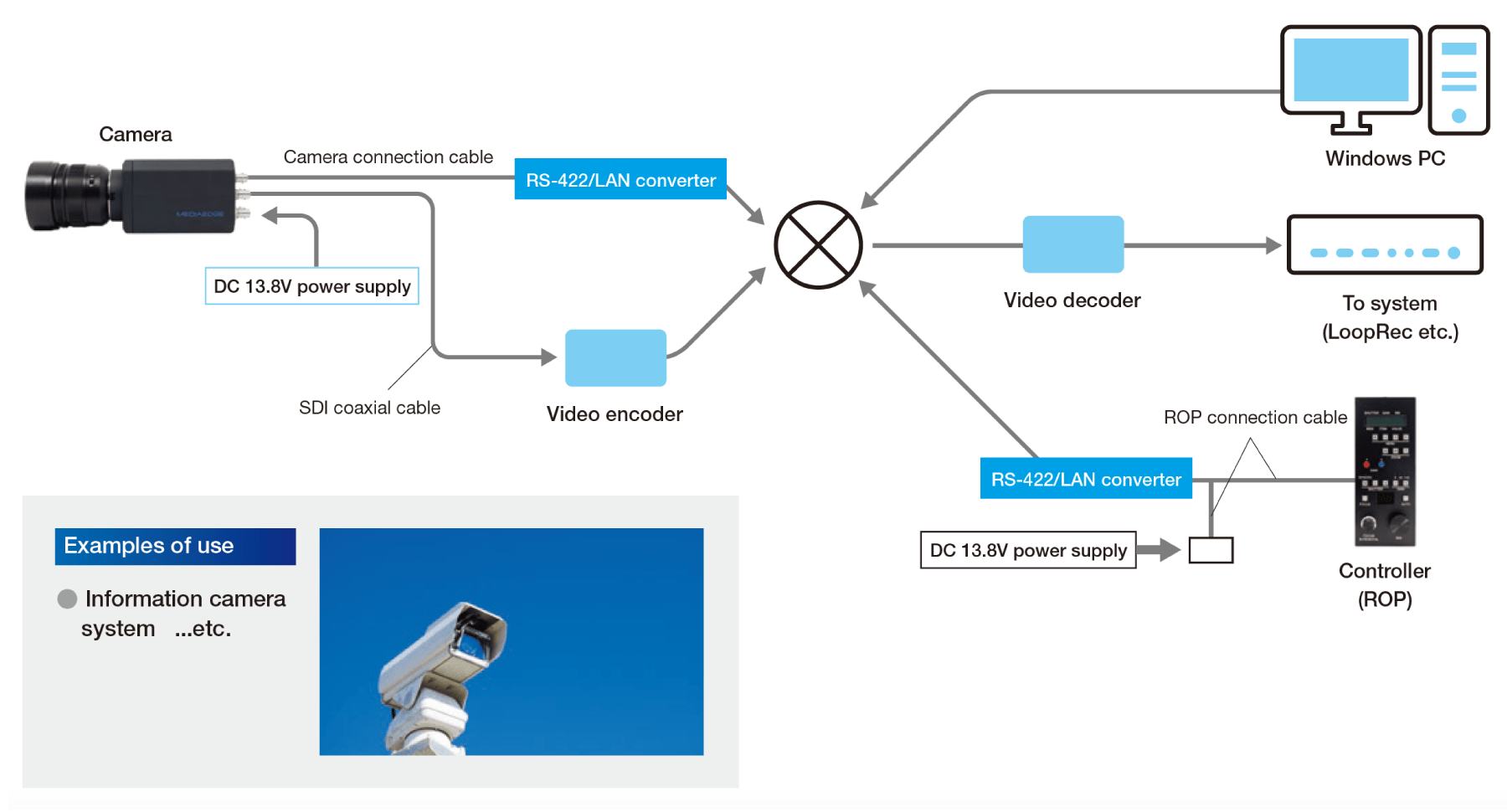 IP Network Remote Control System
An information camera, such as weather view camera, city view camera or traffic camera, which is installed in a distance from operation center, can be controlled via an IP network. In the same way as the multi-camera central control system, the QDCAM control app is used. When a video encoder is used, the video can also be transmitted using the same network.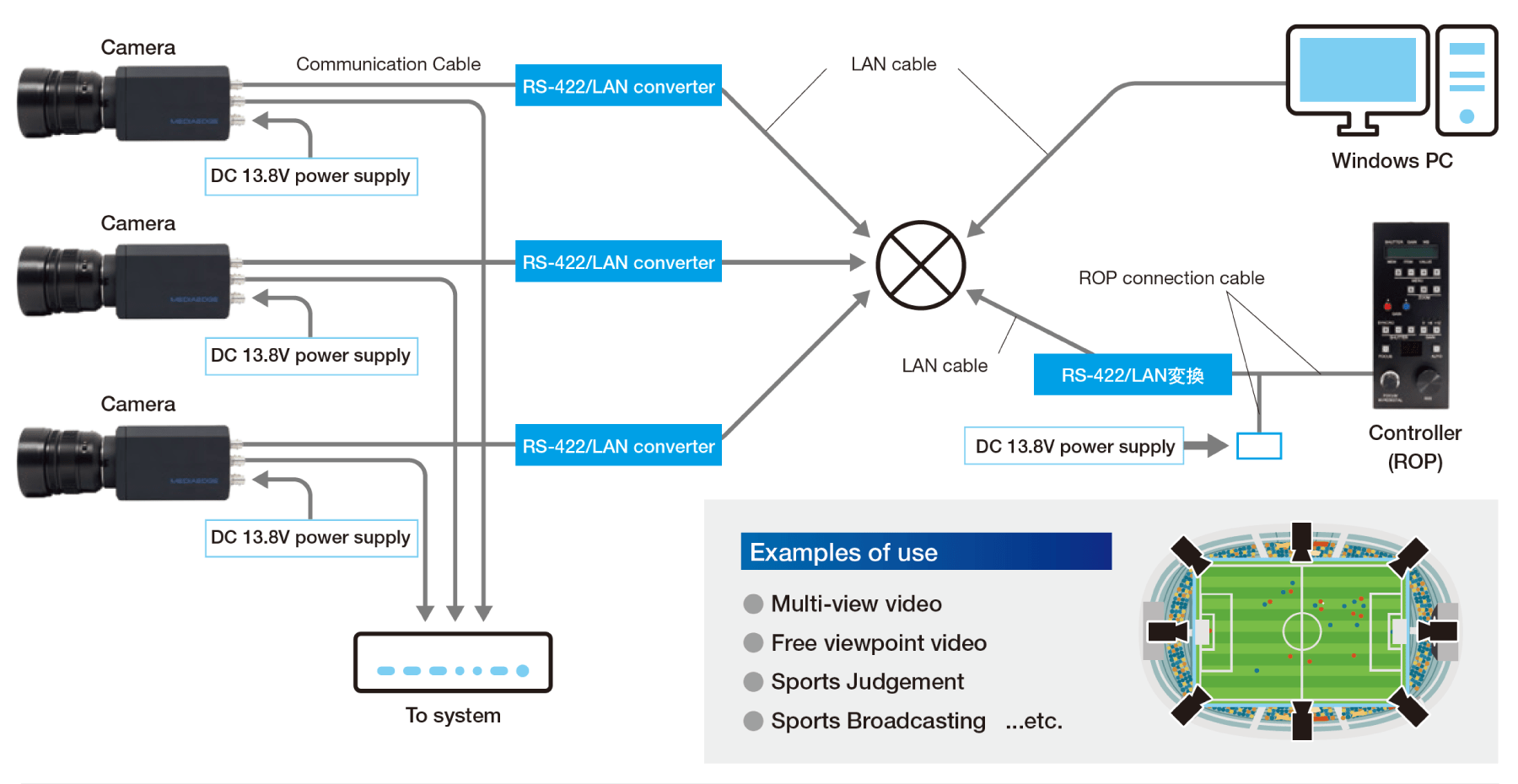 Slow-Motion Video Production
Connecting to a Video Production Server
By connecting to a video production server or similar device, it is possible to perform slow-motion playback of live sports and to edit the highlights. Learn more about Envivo Replay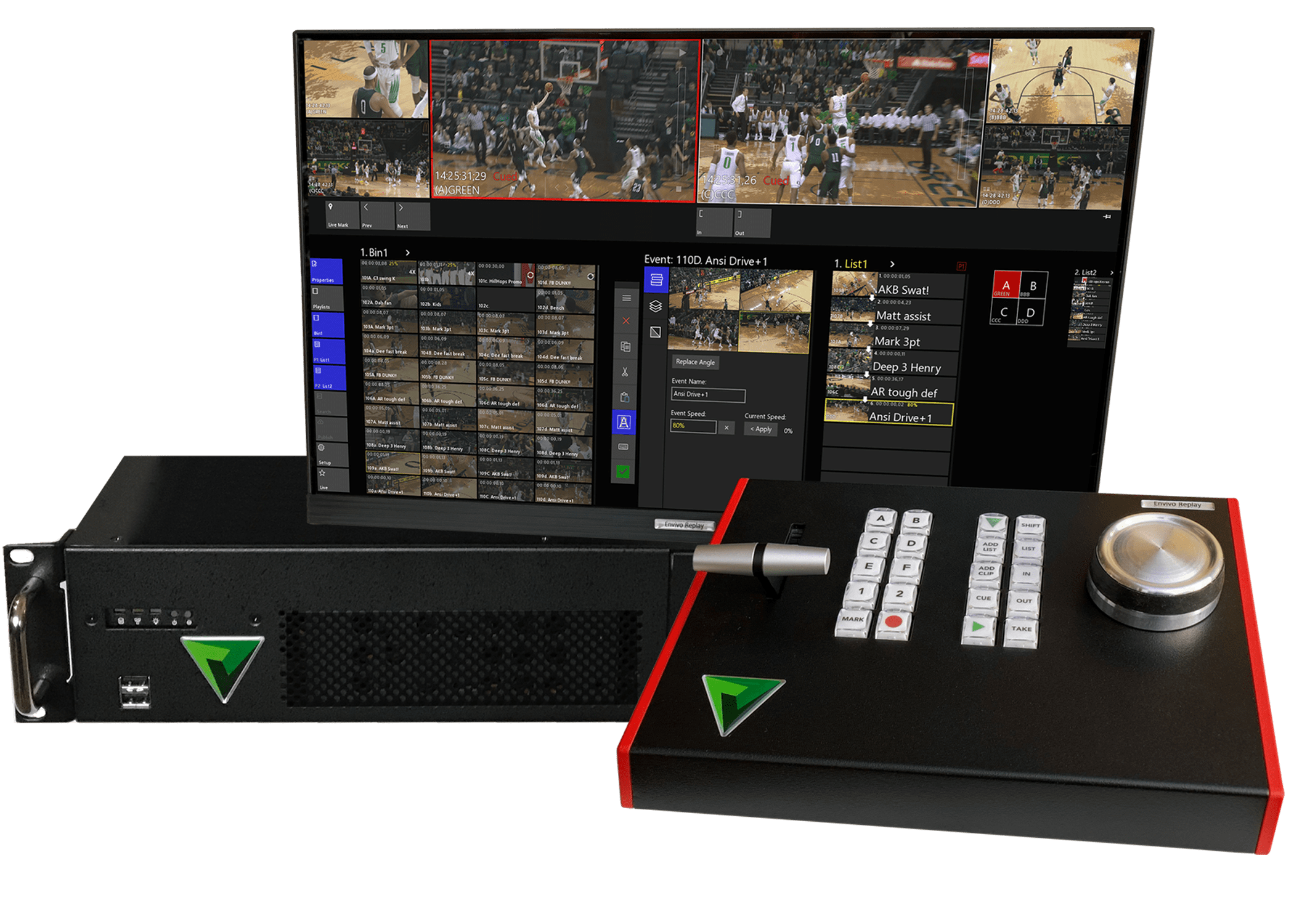 Envivo Replay Integration
Build an affordable slow-motion system. Create slow-motion clips or video with slow-motion sequences.
Supported formats: 240p, 239.76p, 200p.
Up to 4× slow motion input.
Accepts mixed slow-motion and normal-speed input.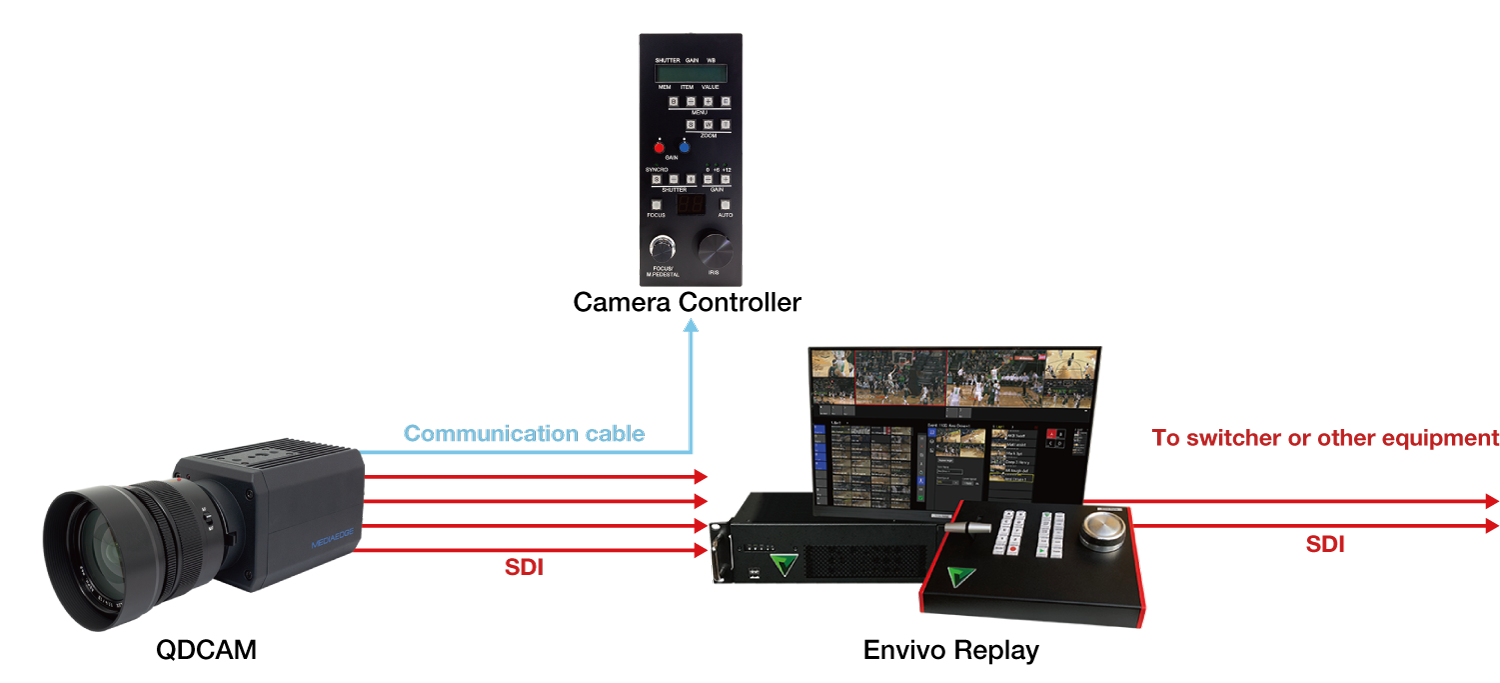 Connecting to the Slow-Motion Recorder/Player QDVS
The QDVS-1000 slow-motion server (recording/playback switching type) captures uncompressed QDCAM 240 fps high-speed video and records it by loop-recording in internal memory. When recording is stopped, it can perform FHD 60 fps slow-motion playback, frameby-frame playback, and freeze-frame display. The playback speed and frame-by-frame playback can be operated as needed by keyboard operations or by using the optional jog controller or T-bar.

Lineup
- QDVS-1000 25-second recording, HDMI output
- QDVS-3000 5-minute recording, HDMI output
- QDVS-5000 45-second recording, 10-bit support SDI output