Revolutionary Ease of Use Multi Channel Media Server

ODYSSEY's Insight Production Server is a versatile system with many features designed to provide easy media management and integration with studio workflows. The channel density can grow from two up to four or eight channels, depending on the system requirements. A wide range of codecs and wrappers provide easy media exchange, playback and recording without conversion. SDI, 12G-SDI and NDI® interfaces are supported across the range of models.

Insight's user interface is designed for concurrent operation, allowing multiple users to operate cooperatively on the server, providing integrated operation across the network. Different roles can also shape the access level of each user, limiting function and channel rights to keep operation safe for all users.

A tight integration with the Hanabi family switchers enables seamless operation and interaction for unified control. Other protocols like VDCP and AMP are supported for further integration with other devices.

Additional modules can be added to standard configuration for enhanced productivity. Network workflows can be improved by means of automatic media transfer, shared network storage and server synchronization. The system also supports the inclusion of extra preview channels which provide a way to review, trim and extract media for further editing.
NDI® is a registered trademark of Vizrt Group.

Folder Sync: Transfer recorded files to and from network storage or attached device.
Central Storage: Use a network resource as main storage for unlimited storage capacity.
Server Sync: Keep multiple servers with synchronized content and playlists.
Preview Channels: Adds extra channels for playback, trimming and media extraction.
Hardware Acceleration: Provides GPU accelerated H.264 encoding and decoding.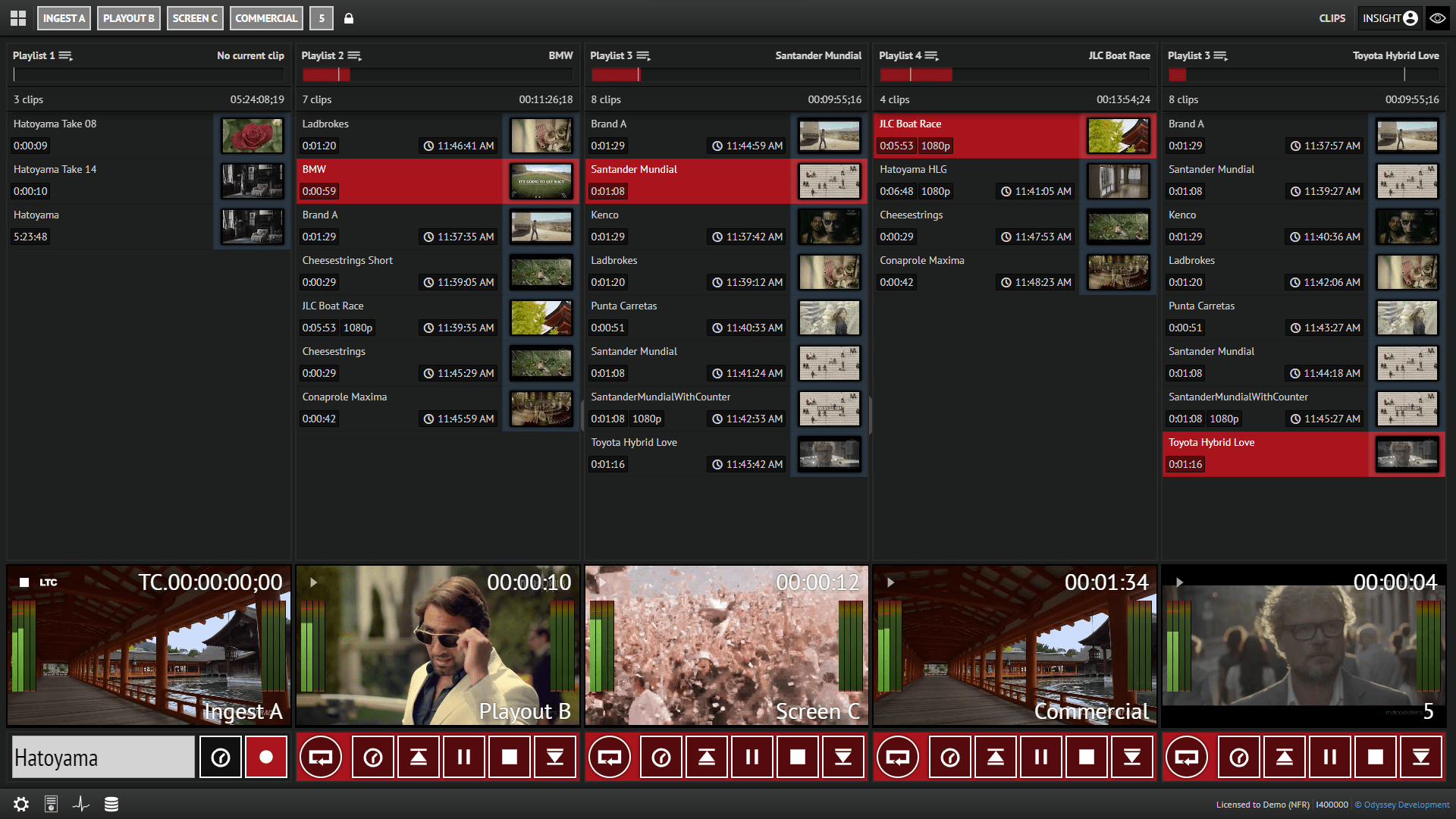 Features
1 RU video server with 2, 4 and 8 channels.
SDI 1.5G/3G/12G, SMPTE ST 2110 and NDI®*1 video IO.
Multi-user network interface designed for team collaboration with user-level security access.
FolderSync module allows transfer to network/USB drive during record and file request from external storage.
Preview subclip trimming, extraction and play while recording.
Solid state storage from 1TB with RAID 1 protection up to 16TB.
Supported codecs include XDCAM, DNxHD, ProRes, H.264/MP4*2 and DVCProHD.
Network storage and synchronization
Allows direct interaction with HVS video switchers.

*1 NDI® is available in FGP-C400 and FGP-C200+.
*2 H.264/MP4 is supported in FGP-400. Requires progressive support module.


Preview Edit

Multi-view
Lineup
FGP-400: 1080i 4 channel SDI, XDCAM/AVC/ProRes/DNxHD
FGP-400P: 1080P 4 channel SDI, XDCAM/AVC/ProRes/DNxHD/MP4, dedicated IO connectors
FGP-C200+: 1080i 2 channel SDI/NDI®, XDCAM/DNxHD/MP4 (with hardware encoding option)
FGP-C400: 1080i 4 channel SDI/NDI®, XDCAM/DNxHD/MP4 (with hardware encoding option)
FGP-212: 2 UHD channel SDI 12G, ProRes/DNxHR
Optional Modules
Folder Sync: Transfer files to and from central storage or external USB devices.
Preview Channel: Adds a virtual channel for media playback, playlist edit and media extraction.
GPU Acceleration: Adds GPU accelerated H.264 MP4 encoding for FGP-C200+ and FGP-C400 models.
Server Sync: Synchronize content and playlists between two servers.
Network Storage: Allows to use an existing central storage for media and playlists. Storage may be shared with other Insight servers.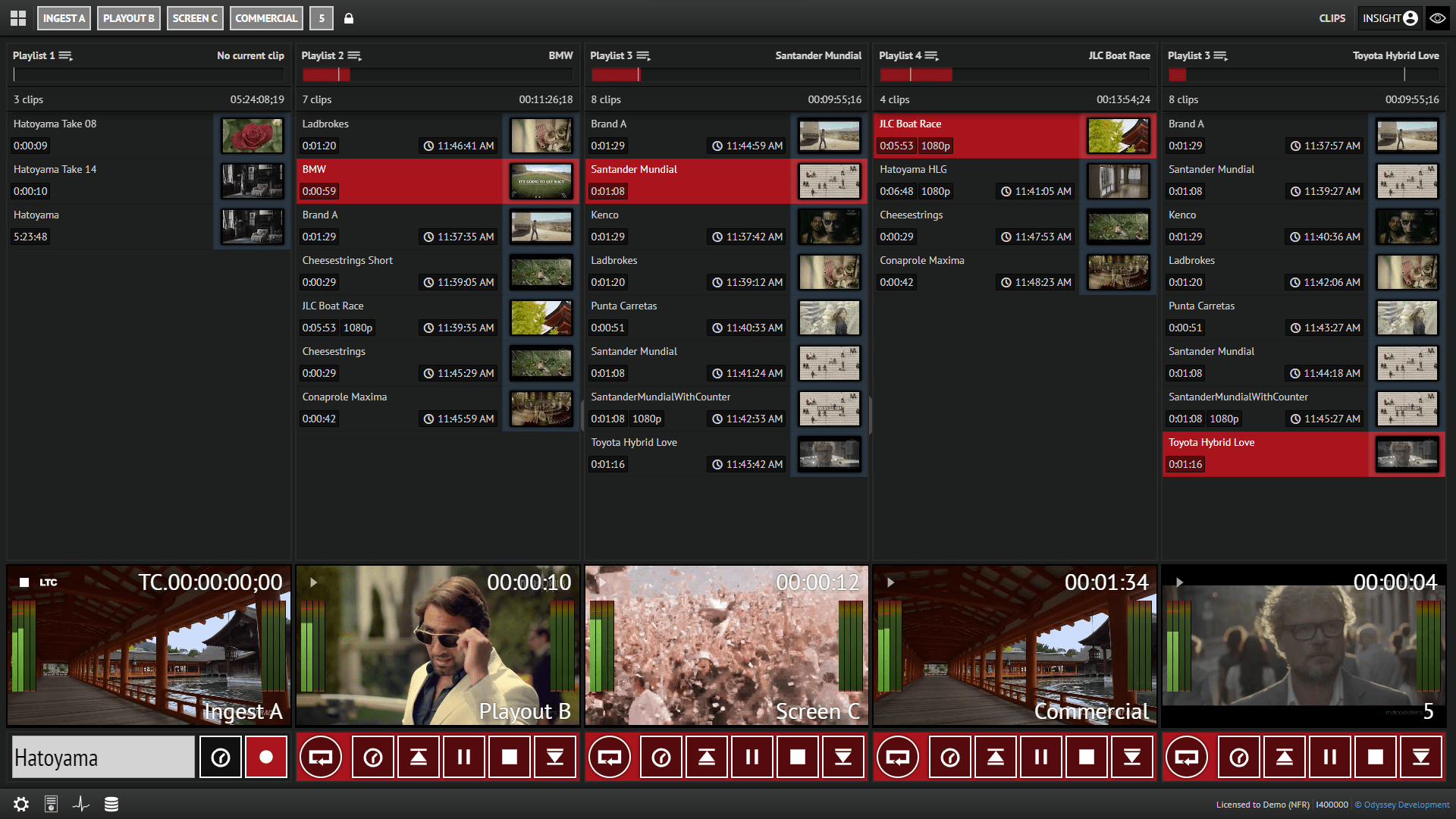 Preview Channel