IP streaming with codec support for file-based workflows. Saves input data without recompression to MXFiles.
Encodes HD-SDI signals for output to two channels of compressed IP streams. Sets up to two destinations per channel.
Decodes IP input streams for output as HD-SDI signals and conversion to MXF files without recompression. MXF les can be played in NLE software as they are created.
Supports H.264 High 422 Intra.
Auto-correction of dropped packets through FEC redundancy, following SMPTE ST 2022-1/2.
Three modes of operation

Live playback and setting conguration in a GUI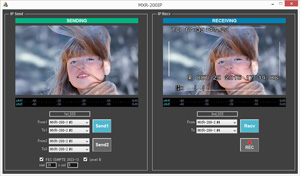 Save MXF files while you watch live playback of IP streams.
Copy to EditShare™ or other network storage while saving
FEC (SMPTE 2022-1) settings
System Configurations

Rear Panel