Up to 32 Inputs with 4-Screen Outputs
The MV-3200 series is a multi viewer offering a multi-monitor display environment suited to your system by selecting and installing the required input and output cards on a 2U frame. Up to 4 input and 2 output cards can be installed on the frame, for a multi viewer with a maximum of 32 inputs and 4 outputs. Supports mixed input of HD-SDI, SD-SDI, analog composite and DVI (analog and digital) signals.
Input/Output Images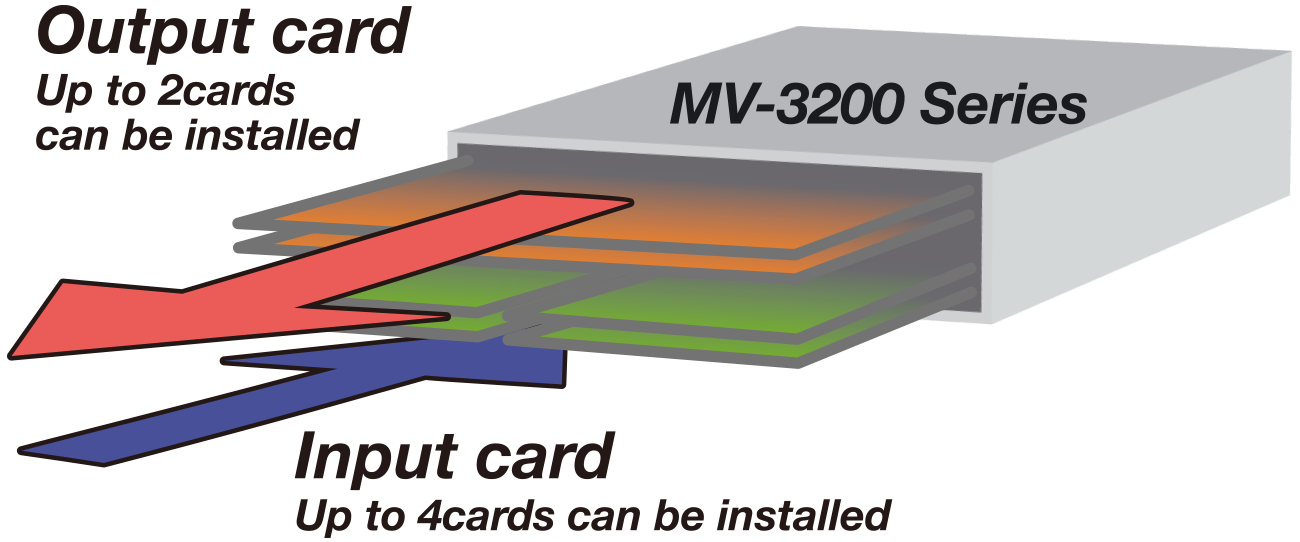 Frame
| | |
| --- | --- |
| MV-3200MF | 2U size frame allowing installation of up to 4 input cards and 2 output cards. |
Input card
MV-32HSDI
3G-SDI (LEVEL-A), HD-SDI or SD-SDI: 8 inputs
MV-32AI
Analog composite: 8 inputs
MV-32AIL
Analog composite: 4 inputs

Allows loopthrough for each input

MV-32PCI
DVI-I: 3 inputs
MV-32AAI
Enables analog audio 16 channel input.
D-sub 25 pin (female) x 2
8 stereo channels, balanced and unbalanced
MV-32DAI
Enables AES audio 16 channel input.
BNC x 8
8 stereo channels, unbalanced
Output card
MV-32PCDO
DVI-I output 2 channels
Can display maximum of 32 video windows and 4 clock windows with 2 channels together for DVI-I output
Options
| | |
| --- | --- |
| MV-32PS | Redundant Power supply unit |
| MV-32FP | Front control panel |
| MV-32RT | 90 degree rotated output |
| MV-32HDO | 3G-SDI (LEVEL-A), HD-SDI output |
| MV-32SNMP | SNMP support |
Supports Mixed Input of Various Signals
Supports mixed input of analog composite, SD-SDI, HD-SDI and DVI signal by combining input cards (asynchronous input allowed). The lineup includes multiple cards to support your types and number of input signals (see table on the left). You can select a single optimal unit to suit your system size and input signal type.
Video Window Display of Each Output
Enables up to 32 video windows for each output card. The input video of your choice can be selected for each video window and the same input video can be displayed on multiple windows.
Time Display, Count Up/Down Timer, Remaining Time Counter
A maximum of 4 clocks can be displayed for each output card. Also, if not used as a clock display, it can be used as a count-up/count-down timer and remaining time counter.
Layout Editor
The layout editor, which operates on a PC, comes standard, letting you change various settings such as split patterns and title display freely from a PC. The layout screen can be saved on the main unit memory in up to 32 patterns. By using the dedicated remote control software, layout patterns saved on the main unit can be recalled easily.
Audio Level Display
A function is provided to display the level of the embedded audio signal that is superimposed on HD/SD-SDI. Also, by installing an analog audio or AES/EBU audio card into an input card slot, their levels also can be displayed.
Tally Display/ Title Display
Tally display: Can be selected from frame tally or marker tally indicator. Two tally indicators can be set per window.
Title display: Up to two strings of text can be displayed for each input. Supports display of alphanumeric characters and symbols (up to 16 letters), which can be displayed within or outside the picture.
Output card Independent Operation
Up to 2 output cards can be installed on a 2U frame, each operating independently. If one card malfunctions, the other one can display 32 inputs.