Redefining the meaning of "Future-Proof"!
The HVS-5000 HANABI series, FOR-A's flagship 3Gbps Digital Video production switcher available in 2M/E to 4M/E configurations. Today's customers expect increases value and high performance from their production switcher purchases. Not just in the systems flexibility or its ability to handle the changing production requirements in today's competitive market, but in the initial investment costs as well.
The HVS-5000 series achieves this and more. The HVS-5000 series is not "just" an SD or HD switcher. It's a powerful 3G digital video production switcher system that combines the best of both. And yet, provides you with the flexibility required to meet the increased demands of your production workflow, while being the heart of your facilities system.
With HVS-5000 series you own more than "SD today, HD Tomorrow" production system. You own a FOR-A HVS-5000 series that redefines the meaning of "Future-Proof"!
Line-up
HVS-5400 with 4M/E. The HVS-5000 series operating control panel is similar to that of the current HANABI series products and have additional features that provide for sequencing and other functions to maximize your workflow, making it the best choice for both live and editing applications. The system can be designed to accommodate a variety of switcher combinations which can also scale to meet various applications.
HVS-5300A - 2M/E Model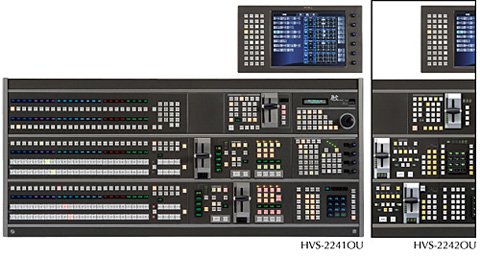 HVS-5400 - 4M/E Model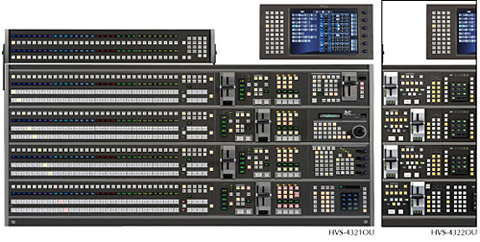 Mixed HD and SD Input
3Gbps Signal Standard Support
Max. 96 Inputs, 48 Outputs
Up-/Down-/Cross-Converter
Reference I/O
4 Keyers and 2D DVEs for Each M/E
VTR Tracking Function
Maximum 16-Channel Still Stores
External Clip Drive
Independent Control of Each M/E
3D DVE
Color Corrector
Advanced Chroma Key
Other Functions