Provides HDR and Wide Color Gamut support. Offers exceptional conversion format delivery, including 12G, 4K(UHD), 1080p and HD/SD.

Each of the FA-9600 processor's two HD/SD inputs includes a frame synchronizer. Because the signal processor features 12G-SDI terminals, optional software opens the door to 4K(UHD) production. Adding an optional expansion card provides four more channels of 3G-SDI input/output or six channels of 12G-SDI distributed output.*1

The FA-9600 is much more than a basic frame synchronizer. It simplies all types of video conversion. A newly developed color processing circuit supports the latest gamut and dynamic range specications, and an optional converter circuit is available for up/down/cross conversion. Offering a wide range of audio processing, core features of remapping and gain adjustment, the FA-9600 can be expanded with optional cards*1 that make it an ideal standalone solution at transmission centers, in mobile production trucks, production studios, news stations, and other nonlinear editing and playout production environments.
*1 For details, see the expansion cards in "Options" in the Datasheet.
Key Features
Various Synchronization Mode
Frame Mode
Supports asynchronous signals with maximum 1 frame delay.
Line Mode
Mode for automatic phase adjusting within 1 line. Used for aligning signals in the system.
AVDL Mode
Mode for automatic phase adjusting within multiple lines. Used for aligning signals in the system.
Line (Min) Mode
Minimum delay (700clk) output possible. Useful when used as color corrector.

Flexible Timecode Management
Timecode multiplex
Selects whether to embed timecode into each FS output.
Timecode generator
Drop frame is available for 29.97/30Hz signals.
Offset adjustment
Delay or advance the timecode.
Sources of timecode
ATC(LTC) timecode in the SDI input
ATC(VITC) timecode in the SDI input
VITC(DVITC) timecode in the SD-SDI input
LTC input with FA-96DIN4-CBL
Generator's timecode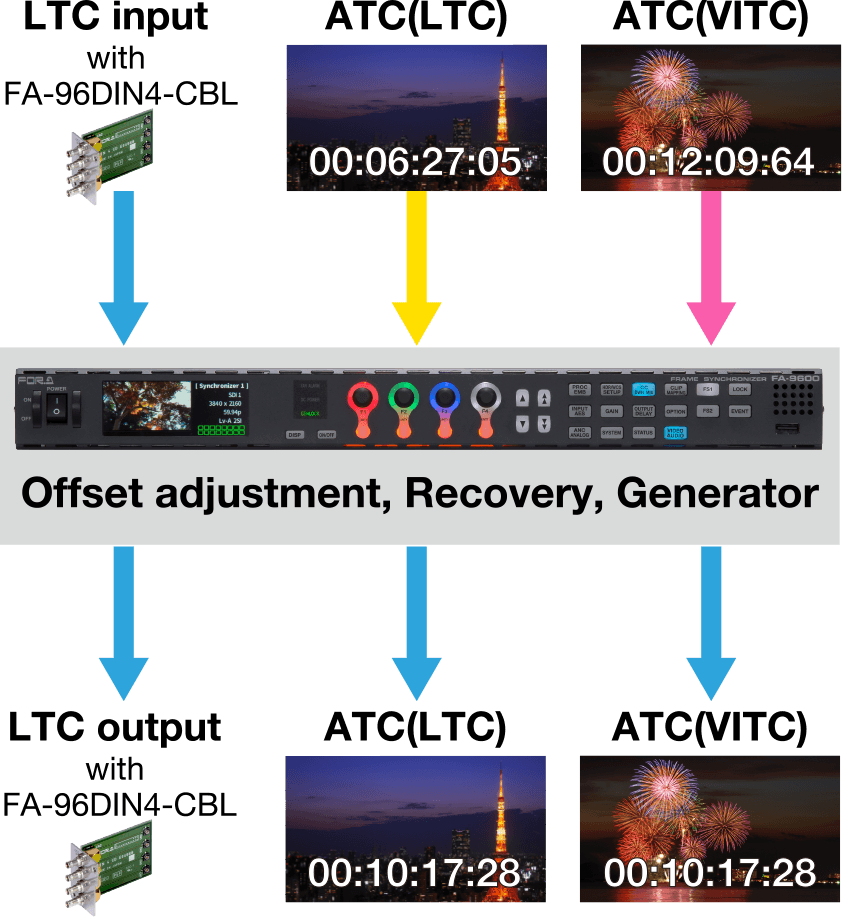 Powerful Color Processing, Suitable for Color Management of Video Wall
Color correction in RGB mode and differential mode
RGB mode: Sets White level, Black level and Gamma by separately adjusting R, G, and B components.
Differential mode: Sets color in R-Y, G-Y and B-Y space without changing white balance.
Dedicated color control panel with 14 knobs (FA-10DCCRU)

HDR/WCG
Wide support for HDR formats
Supports major HDR formats such as HLG, PQ, HLG_Live, S-Log3, Canon Log 3, Canon Log 2, etc.
Convert SDR ↔ HDR and HDR ↔ HDR formats.
High performance "Round Trip"
Accurates SDR → HLG → SDR conversion..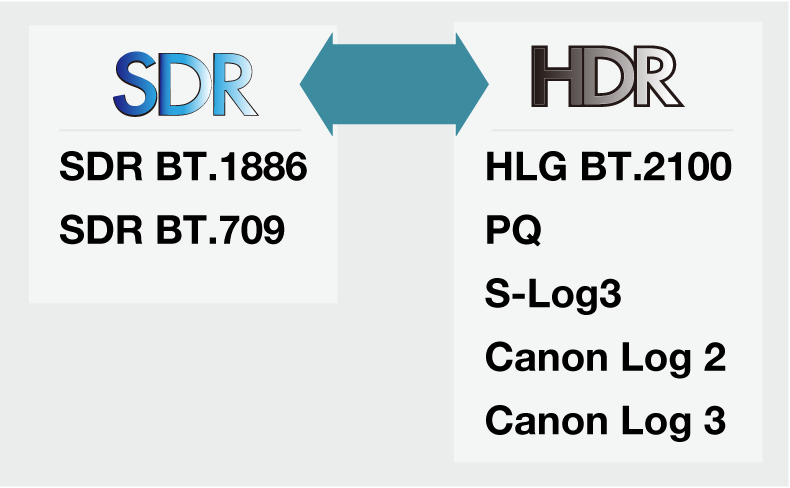 Full Collaboration with SR Live for HDR
Compatible with SR Live for HDR or OOTF adjustment function. (FA-96AHDR2 option required)
SR Live for HDR represents the workflow which can provide HDR production proposed by Sony.

Highly Accurate Processing with 1D LUT and 3D LUT
1D LUT and 3D LUT supported.
3D LUTs are very effective for color conversions including gamut and dynamic range changes.
Convert various camera logs into FOR-A 1D LUT.
Supported 1D LUT files: Autodesk Lustre, Adobe After Effects, DaVinci Resolve and Sony SRW-1
Convert general 3D LUTs used in various NLE systems. Supported 3D LUT files: Cube files created by Adobe Premiere Pro CC, DaVinci Resolve or other software.

NEW! Frame Rate Conversion
Simple frame rate conversion is now available
Instantly converts 50↔60 Hz.
Provides high quality converted images.
Assists broadcast operators with immediate visual.
Application: Videos provided by other countries may be converted and put on air without software conversion.
Payload ID Support
Wide support for the HDR formats.
Get color space and HDR range information from payload on input (max. 4bit) and automatically recall the event matched to that color information.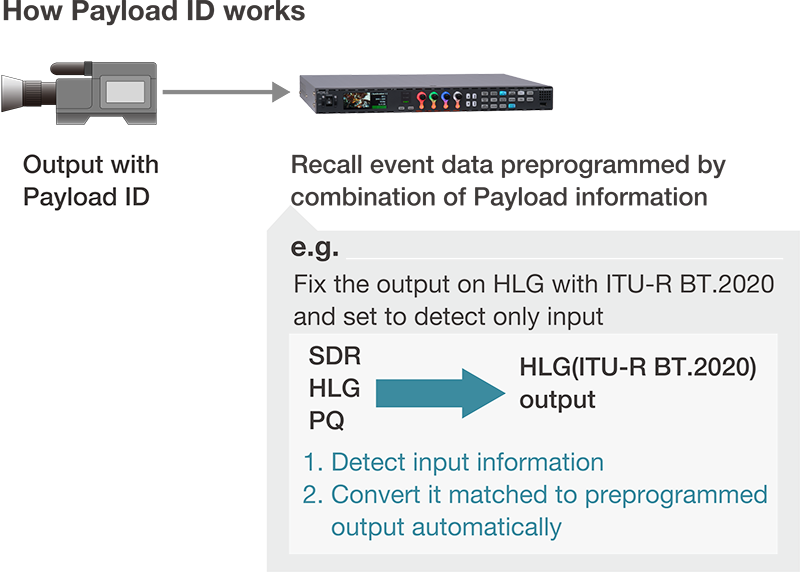 Versatile Video and Audio Input/Output
Video
Single Link 12G-SDI, Dual Link 6G/3G-SDI, Quad Link 3G/HD-SDI, 3G/HD/SD-SDI, SFP/SFP+ option (Fiber)
Audio
Embedded audio, AES, MADI, Dante, Analog

Standard Features
| Signal | Feature | I/O | Connector |
| --- | --- | --- | --- |
| Video/Audio | 12G/6G/3G/HD/SD-SDI | 1 in 2 out | BNC |
| Video/Audio | HDMI | 1 in 1 out | Standard-A |
| Black Burst/Tri-level Sync | GENLOCK | 1 in 1 out(through out) | BNC |
| Audio | Digital Audio | 4 in/out (selectable) | BNC |
| Ethernet 100BASE-T | LAN | 1 in/out | RJ-45 |
| AC Power Input | AC 100-240 V 50/60 Hz | - | 3P |
Optional Slot
The FA-9600 can be upgraded by installing optional modules into Slot A, B and C. Option cards must be installed into the correct slots, because available slots are defined depending on the option type cards as shown below.
Hardware Option
Description
Slot
A
B
C
D
E
FA-96EX3G44-R
Quad link 3G/1.5G-SDI in/out
Ο
–
–
–
–
FA-96EX12G06
6 outputs of 12G/6G/3G/HD/SD-SDI
Ο
–
–
–
–
FA-96SFPC4*

1

4-cage card for SFP modules
Ο
–
–
–
–
FA-96AES-UBL
Unbalanced digital audio 8-in/out
–
Ο
–
–
–
FA-96AES-UBLC*

2

Unbalanced digital audio cable
–
Ο
Ο
–
–
FA-96ANA-AUD*

1

Balanced analog audio 4-in/4-out card
–
Ο
–
–
–
FA-96MADI
MADI I/F 32-in 32-out
–
Ο
–
–
–
FA-96DNT*

3

Dante I/F 32-in 32-out
–
Ο
–
–
–
FA-96GPI
GPI I/ F 10-on 10-out
–
Ο
Ο
–
–
FA-96DIN4-CBL
LTC 1-in 1-out
–
–
–
Ο
–
FA-96DB9-CBL
GPI 1-in 1-out
–
–
–
–
Ο
FA-96PS
Redundant Power Supply
–
–
–
–
–
1. Note that operating temperature should be kept below 35°C(95°F) when both FA-96SFPC4 and FA-96ANA-AUD options are installed.
2. FA-96AES-UBLCs cannot be installed into Slot B and Slot C at the same time.
3. FA-96DNT will be included in a future release.
Software Option
Description
FA-964K
12G-SDI signals
FA-96UDC
Up/down/cross conversion
FA-96AHDR2
Advanced color imaging features:
SR Live for HDR, S-Log3 and HLG log curves
SR Live for HDR represents the workflow which can provide HDR production proposed by Sony.
FA-96EX3G44-R (SDI I/O Expansion Card)
4-input/4-output of 3G/HD/SD-SDI
Allows relay bypass

FA-96EX12G06 (12G-SDI Output Expansion Card)
Supports 12G/6G/3G/HD/SD-SDI outputs
Available for up to 6 distributed outputs

FA-96SFPC4 (4-Cage Connector Card for SFP Modules)
Able to install up to 4 SFP or SFP+ modules*

4

4 channels of Rx and 4 channels of Tx support for fiber optic via SFP+ modules
4. SFP/SFP+ modules are not supplied. Please prepare modules for yourself and consult your FOR-A supplier for more details.

FA-96AES-UBL/96AES-UBLC (AES/EBU Digital Audio Expansion Card and Cable)
Adds 4 ports (8 channels) respectively.
FA-96AES-UBL card adds 4 ports (8 channels) for input or output. Selectable in/out per 2 ports (4 channels) in the same manner as standard.
FA-96AES-UBLC cable adds 4 ports (8 channels) for output. Sets all standard AES ports to input.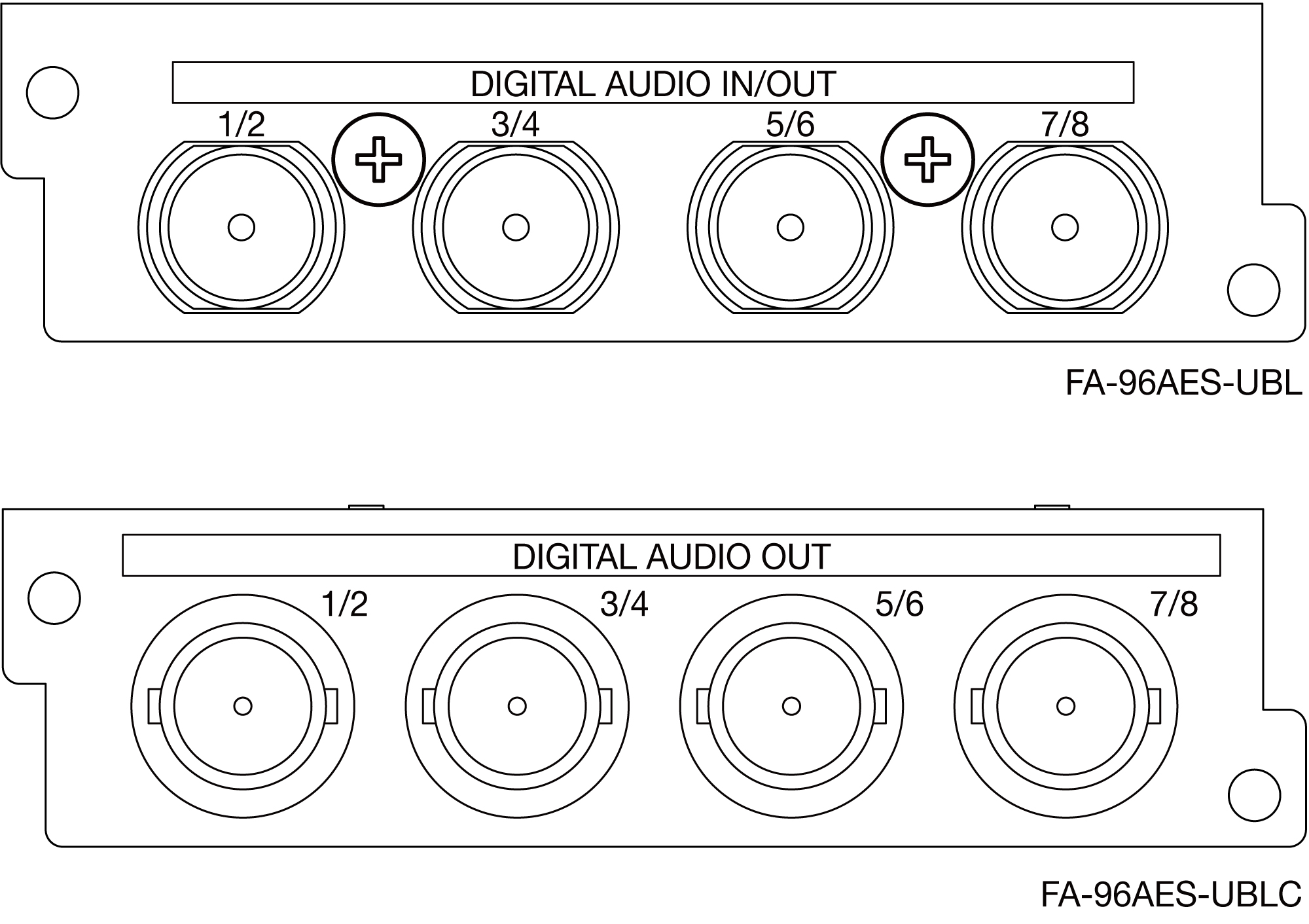 FA-96ANA-AUD (Balanced Analog Audio 4-In 4-Out Card)
Respectively connect hot and cold lines to pins.

FA-96MADI (MADI Audio Card)
Supports MADI using 75-ohm coaxial cable.
1 in 1 out with BNC connector.
Max. 32-channel process.
FA-96GPI (GPI Interface 10-In and 10-Out Card)
Each input/output terminal is function assignable.

FA-96DIN4-CBL (LTC I/O Expansion Cable)
Adds 1 LTC input and 1 LTC output.
I/O 1 and I/O 2 are reserved for future use.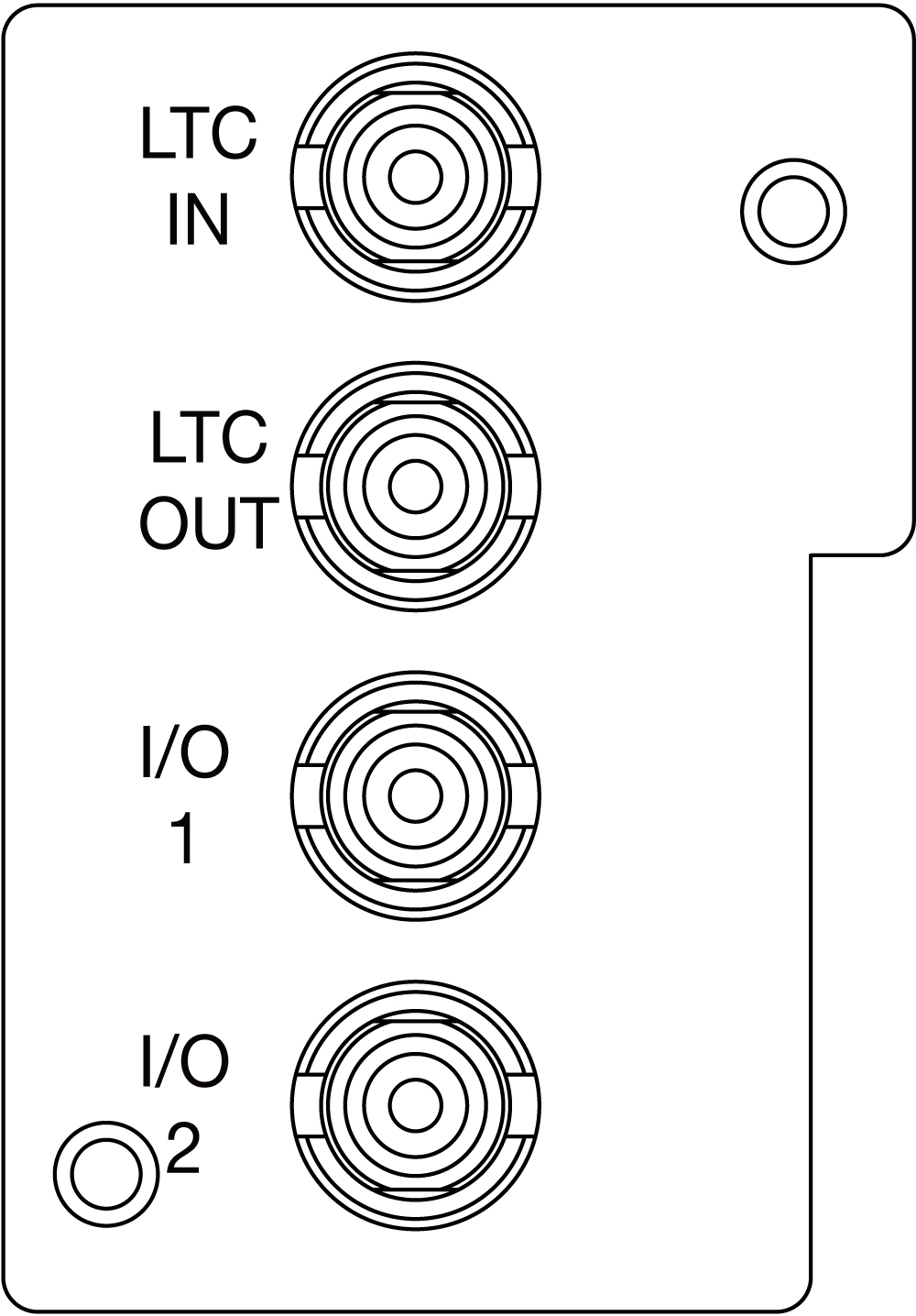 FA-96DB9-CBL (7 GPI In/Out Expansion Cable)
Use the menu to select input or output function for each pin.
Broadcast Style Operation
No PC required - everything is included in the front panel LCD monitor for input source monitoring.
LCD monitor for input source monitoring and status display on the front panel.
Color-coded knobs for intuitive color correction.
Immediate control with shortcut buttons for each function in the processor.

Remote Panels
Remote Control Unit FA-10RU
The same structure as the front panel
Controls multiple units via 1 FA-10RU (Max. 100 units)

Remote Control Unit for Color Correction FA-10DCCRU
Dedicated for color correction
Immediate access to proc amp, white, black and gamma level control

Remote Control Panel FA-AUX30
Pre-program many functions in the processor via GPI interface
Push buttons to select different units or to recall events

5-year warranty
The generous extended warranty includes:
Free product firmware updates for the life of the product, whether in or out of the warranty period.
Coverage transfer to the new owner at no cost should you sell your product.
Parts and labor with any defect under normal operating conditions.
Free technical support via phone or email for the life of the product, whether in or out of the warranty period.
Terms of the extended warranty apply to the FA-9600 sold by FOR-A and its subsidiary companies since August 1, 2019.
Packages
Standard
Package 1
Package 2
Package 3
Package 4
FA-9600
Ο
Ο
Ο
Ο
Ο
FA-96UDC
Ο
Ο
Ο
Ο
Ο
FA-964K
–
Ο
Ο
Ο
Ο
FA-96AHDR2
–
–
–
–
–
FA-96PS
–
Ο
Ο
Ο
Ο
FA-96DB9-CBL
–
–
–
–
–
FA-96DIN4-CBL
–
–
–
–
–
FA-96EX12G06
–
–
–
–
–
FA-96EX3G44-R
–
Ο
–
Ο
Ο
FA-96AES-UBL
–
–
–
Ο
–
FA-96AES-UBLC
–
–
–
–
–
FA-96GPI
–
–
–
–
–
FA-96SFPC4
–
Ο
–
–
–
FA-96ANA-AUD
–
–
–
–
–
FA-96MADI
–
–
–
–
Ο
Spec
Standard
Package 1
Package 2
Package 3
Package 4
12G/6G/HD/SD-SDI
–
1 in 2 out
1 in 2 out
1 in 2 out
1 in 2 out
3G/HD/SD-SDI
1 in 2 out
5 in 6 out
1 in 2 out
5 in 6 out
5 in 6 out
HDMI
1 in 1 out
1 in 1 out
1 in 1 out
1 in 1 out
1 in 1 out
HDMI
–
–
4ch Rx, 4ch Tx for Fiber Optic
–
–
AES
Selectable in/out
per 2 ports 8ch
(4 in/out)
Selectable in/out
per 2 ports 8ch
(4 in/out)
Selectable in/out
per 2 ports 16ch
(8 in/out)
Selectable in/out
per 2 ports 8ch
(4 in/out)
Selectable in/out
per 2 ports
MADI
–
–
–
–
32ch
(BNC 1 in 1 out)
4K Support
–
Ο
Ο
Ο
Ο
Redundant Power Supply
–
Ο
Ο
Ο
Ο
Videos
Introduction

Key Features 1
(Overview, Control Panels)

Key Features 2
(Web GUI)

Key Features 3
(Options)

Key Features 4
(Proc Amp/Color Correction,HDR/WCG)

Key Features 5
(Up/Down/Cross Conversion)

Key Features 6
(Audio Processing)

Key Features 7
(Summary)