High-performance HD/SD color corrector, for precise color correction in real time using 12 color parameters.
In addition to offering black level adjustment and versatile processing, the unit incorporates a frame synchronizer. Dedicated control panels are also available, enabling more efficient operation.
Applications include:
Correction/fine-turning to compensate for discrepancies in colors from various manufacturers or models of cameras
Correction/fine-turning of on-set monitors to match color temperature of lighting
Efficient color correction/fine-turning for the editing process
Features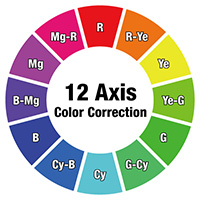 12-axis color correction in real time
The DCC-7000 goes beyond typical RGB color correction to offer adjustment based on 12 colors. Hue and saturation can be adjusted in each of the 12 axis, making it easy to adjust specific colors in isolation. Enjoy advanced color correction from specialized hardware design with the convenience of real-time processing.
Includes a traditional color correction mode

A mode for conventional RGB correction is also included. After general adjustment in this mode, users can switch to more precise color correction in the 12-axis mode. Three color correction modes are available: Balance, Differential, and Sepia.
Balance mode: RGB-based color correction
Differential mode: Color correction maintaining white balance
Sepia mode: Monotone color conversion
Note: 12-axis color correction is not usable when Sepia mode
Vector display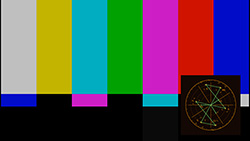 For precise color correction, video signals can be displayed using the built-in vectorscope. Detailed color adjustment is possible while viewing waveforms. Using multiple outputs, an alternative coordinate system can be displayed without displaying the main line.
Split before/after display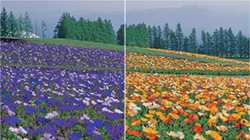 Images can be viewed before and after color correction together for comparison. Images can be displayed vertically or horizontally, for easy color correction while comparing the original image. Before and after images can also be displayed on individual outputs without using the split display.
Clip Level functions
RGB and composite clip functions keep color information within the optimal range.
RGB clip

RGB clip uses white clip and black clip functions to correct color information in video that is too bright or dark.
Composite clip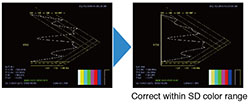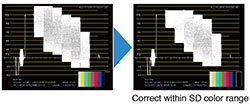 Composite clip automatically adjusts color information in HD video to suit SD signal ranges while preserving the original appearance. By determining differences between color information in HD video and that available with SD video, color inconsistency in simulcasts can be instantly corrected.
Dual independent outputs
Equipped with two HD/SD-SDI inputs and one analog composite input, the unit can process signals from one input at a time and switch between each signal as required.
The unit is equipped with two HD or SD-SDI outputs and one analog composite output. Using dual- outputs, one can be used for precise adjustment with before/after or vector display, while the other is used as the production output. The analog composite output can be used with SD-SDI signal
Event memory
Color-correction settings can be stored on the unit for instant recall of 100 events. Additionally, the unit's built-in browser can be used to export or save data to an external computer. This makes it easy to use the color corrector when correction settings are edited in the field.
Other features
Video processing controls for: video level, luminance level, chroma level, black level, and hue.
Frame synchronizer (FS) functions: Frame Sync, Line Sync, and Input Sync modes.
Embedded audio pass-through: Supports up to 16 channels of embedded audio. Audio is de-embedded before processing and then re-embedded afterward.
| | |
| --- | --- |
| | |
| DCC-70RU: Portable version for remote control | DCC-70DRU: Tabletop version |
Dedicated controllers
Dedicated controllers are available for more efficient color correction work. A tabletop controller provides direct access to parameters, and a portable unit is perfect for control in the field. Up to five controllers can be connected at once for simultaneous control.