Event
FOR-A Americas Brings Message of Volunteer-Friendly, Cost-Efficient, and Software-Defined Video Production to CFX 2022
New All-in-One Production Center, SOAR-A Remote Production Software and Presentation on Best Practices in Church Production Among Show Highlights
New York, October 20, 2022 – With its emphasis on ease of use, cost efficiency and a production ecosystem that works with all flavors of IP, FOR-A is demonstrating its commitment to houses of worship at this year's CFX Convention. Highlights on display will include the company's agile SOAR-A (Software Optimized Appliance Revolutionized by FOR-A) line up and the MFR-3100EX all-in-one production center. In addition, Alfred Burgess, Client Relationship Specialist with FOR-A partner Strata will speak on behalf of both companies "How to Avoid Compromise and Mistakes in Church Production" during the show.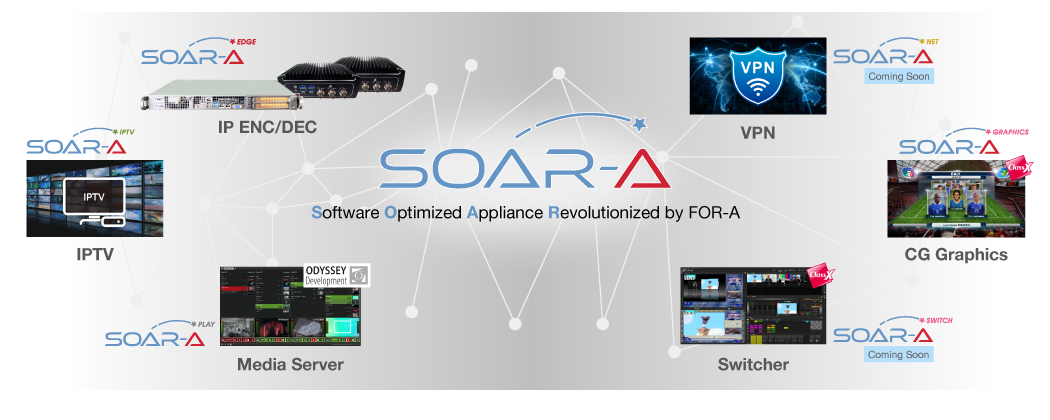 SOAR-A line up
CFX (Church Facilities Expo) runs from October 25-26 at the Kay Bailey Hutchison Convention Center.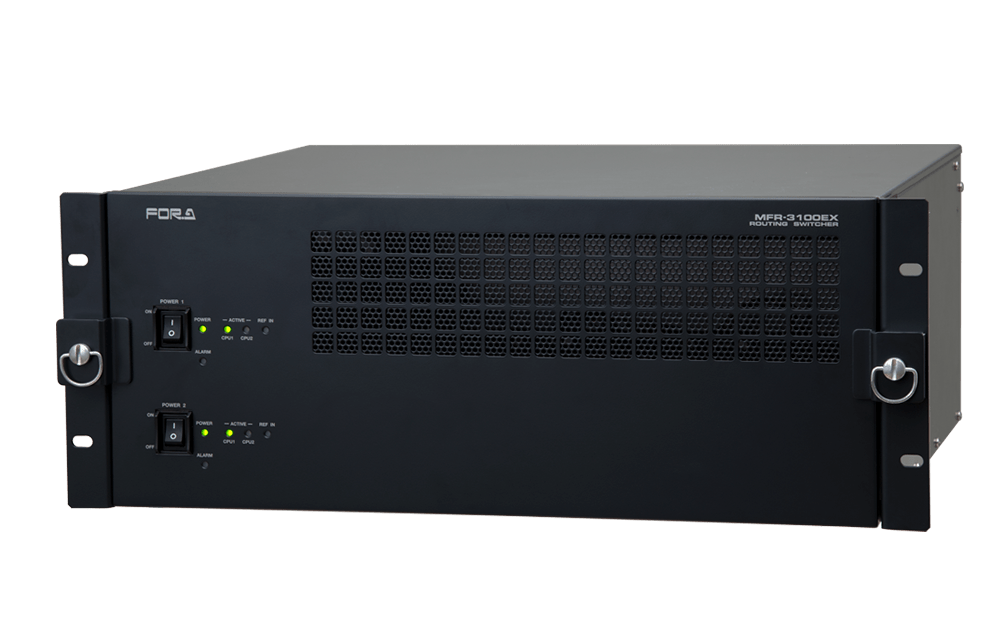 All in One Production Center MFR-3100EX
"We've worked closely with the house of worship community, including our dealers and customers, to develop a solution that is extremely intuitive, budget-friendly and format flexible," said Satoshi Kanemura, FOR-A Americas President. "We also recently hired as sales engineer, Will Livingston, who still supervises weekend broadcasts at Compass Christian Church in Phoenix. We've brought in all the resources we need to deliver a truly breakthrough all-in-one system for house of worship AV applications.
"With our SOAR-A platform, it's incredibly easy for houses of worship to transition to an IP workflow for high-quality, inter-campus production and for streaming to worshippers throughout the world. Our MFR-3100EX is also all about ease of use for the AV volunteer. It handles everything from switching to PTZ camera control, streaming, NDI® support, and multi-view control – all in one 4RU unit. We're expecting to see a lot of interest in both during CFX because of their capabilities and ease of use."
The cost-effective MFR-3100EX is FOR-A's software-defined IP workhorse. Video, audio, control signals and tally control can be sent and received over an IP connection. Services can be uploaded directly to social media platforms and streaming services.
It configures a matrix of up to 64x72, with up to 4 inputs/4 outputs for 8K signals or 16 inputs/18 outputs for 4K UHD. Multiple units can be used together, enabling matrix expansion and redundancy. All input channels may be monitored via web browser, and optional functionality like frame synchronization, AVDL, and audio MUX/DEMUX is a simple matter of adding an expansion card to an input or output slot. And with NDI® installed, the MFR-3100EX also supports meeting collaboration software such as Zoom, Microsoft Teams and Google Meet.
The SOAR-A series of live remote production software provides low latency, synchronized A/V and expandability on a secure platform. Among the modules in the product family are SOAR-A Edge, an IP transport appliance and SOAR-A IPTV, an IPTV distribution service. All modules within the SOAR-A line are SMPTE ST 2110 capable. It is compatible with WebRTC and utilizes RIST (Reliable Internet Streaming Transport).
The SOAR-A Edge transport appliance for REMI solutions features an expandable IP-based architecture and supports the conversion and delivery of SD, HD, 4K and NDI® to SMPTE ST 2110 signals. It is compatible with WebRTC and utilizes RIST (Reliable Internet Streaming Transport). The SOAR-A Edge system serves content creators transitioning to IP, live event producers looking for a 12G 4K video production solution; as well as those looking for a workflow with low latency, software-based services.
SOAR-A IPTV is an ultra-low latency, web distribution service that provides streaming from one location via WebRTC to any number of remote browsers or set top boxes. It requires a single SOAR-A device at the main location with set top boxes or PCs at remote locations for display. Viewers can watch the video on standard computers, tablets and smart phones. Cameras can also be monitored via a low latency preview on the web browser without any custom software. And SOAR-A IPTV also enables 24/7 recording.
FOR-A is taking its technology expertise to the CFX stage with a presentation by Alfred Burgess, Client Relationship Specialist with partner company, Strata. Burgess will speak about the top five issues that can compromise church productions and how to avoid them. Key takeaways will include:
• Best use of volunteers
• How to minimize the cause of production challenges
• Simplifying production technology operation through automation
• Technology challenges & solutions, such as 4K, IP, etc.
Burgess will speak on October 26th at 10:30am as part of the show's Production Track.
NDI
®
is a registered trademark of Vizrt Group.
About FOR-A
FOR-A, a worldwide, industry-leading manufacturer, offers a wide range of Broadcast and Production products with a focus on cutting-edge technologies including: HD, 4K and IP Products.
FOR-A continues to offer future-ready, cost effective, advanced technology solutions. Products include: Video Switchers, Routing Switchers, Multi Viewers, Full 4K High-Speed Cameras, IP Encoders/Decoders, Multi-Channel Signal Processors, 8K/4K/HD Test Signal Generators, Color Correctors, Frame Synchronizers, File-Based Products, Character Generators, Video Servers and much more.
For a full range of HD and 4K Production and Processing solutions, as well as IP-Based Products, visit our web site at www.for-a.com
Press and Marketing Contact:
press@for-a.com
Any Questions? Please feel free to contact us.