Customer Stories
FOR-A Helps Legacy Production Group Adjust to New Corporate Video Workflows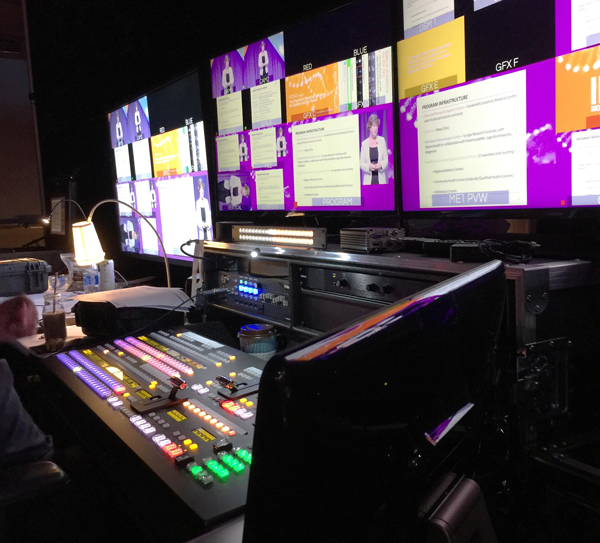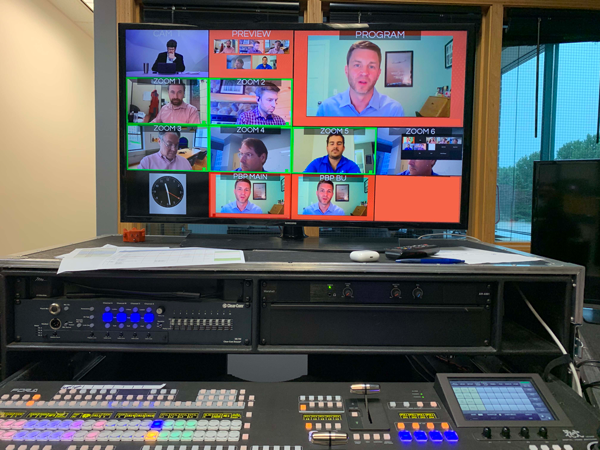 Cypress, CA, Jan. 26, 2021 – Legacy Production Group, a corporate video production company based in Minneapolis, built its business around live events. With COVID-19 restrictions eliminating in-person meetings, however, the company had to quickly pivot to corporate videoconference coverage – and relied on its HVS-2000 HANABI video switcher from FOR-A Corporation of America to deliver high-quality results.
This month, Legacy has been producing coverage of multiple videoconferences each week, even though spring and autumn are traditionally busier seasons for corporate meetings. "We haven't had a live event since February 2020," said Tom McKnight, owner and vice president. "Our FOR-A switchers helped us stay relevant in our area when corporate went virtual."
Instead of multi-camera shoots, Legacy now concentrates on presentations built around multiple Zoom feeds. Unlike the typical "gallery" layout that shows all the participants in a grid, Legacy uses the flexibility of the FOR-A switcher to create dynamic on-screen combinations of people and graphics that look more like newscasts than videoconferences.
For example, by harnessing the HVS-2000's DVEs and keys, a presentation can display a PowerPoint presentation, then use an event memory or macro to move to a two-box that highlights two specific presenters. The result is that it feels like presenters are interacting with each other from the same location, even if they are across the country from each other.
A new trend in corporate videoconferences is to have prerecorded videos from several people, then invite the same people to call in to the meeting live for additional discussion. Unfortunately, not all presenters are always available to participate. By saving a variety of screen layouts in the FOR-A switcher, McKnight is able to accommodate the correct number of participants, even at the last minute.
"Producers in town are loving it," McKnight added. "They sell 'looks' to their clients that no one else can do. We have all these different looks programmed. Our FOR-A HVS-2000 has never been busier because of what we can do with it."
"Legacy Production Group had to figure out a way to keep their doors open when COVID-19 closed the doors on in-person corporate meetings," said Adam Daniul, FOR A director of midwest and south regional sales. "The flexibility of the HVS-2000 provided them with a competitive edge, delivering videoconferencing coverage that's far more compelling than standard Zoom meetings."
The HVS-2000 2 M/E video switcher offers 24 inputs and 18 outputs as standard, and can be expanded up to 48/18 or 40/22 with optional I/O cards. Its integrated MELite™ technology previews output from an AUX bus when applying transitions or keying for expanded M/E performance, while its FLEXaKEY™ architecture offers flexible reassignment of keyers separate from the standard keyers of full M/E buses.
About FOR-A
FOR-A, a worldwide, industry-leading manufacturer, offers a wide range of Broadcast and Production products with a focus on cutting-edge technologies including: HD, 4K and IP Products.
FOR-A continues to offer future-ready, cost effective, advanced technology solutions. Products include: Video Switchers, Routing Switchers, Multi Viewers, Full 4K High-Speed Cameras, IP Encoders/Decoders, Multi-Channel Signal Processors, 8K/4K/HD Test Signal Generators, Color Correctors, Frame Synchronizers, File-Based Products, Character Generators, Video Servers and much more.
For a full range of HD and 4K Production and Processing solutions, as well as IP-Based Products, visit our web site at www.for-a.com.
Press and Marketing Contact:
press@for-a.com
Any Questions? Please feel free to contact us.