UCLA Selects Envivo Replay as a Coaching Tool
Application capitalizes on Envivo Replay Ease of Use and Flexibility.

June 6, 2019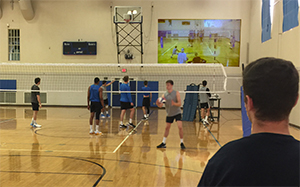 Portland, OR, June 6, 2019 – UCLA Athletics has selected Envivo Replay to help analyze player performance during team practice.
"Our customer base continues to help us design and improve our products to their liking, they even find uses for Envivo that we hadn't thought of.", said Olaf Bahr, Variant Systems Group Co-Founder and Vice-President of Marketing. "UCLA, for example, brilliantly thought of an idea of how their coaching staff can utilize a replay system, like Envivo, in areas of team practices and player performance review."
Launched at the 2017 NAB SHOW, Envivo Replay offers a complete replay solution packaged in an intuitive user interface with continuous multiple iso-channel recording capabilities, simultaneous clip storage of multiple angles to clip bins, playlists for highlights playback, built-in branding capabilities, direct publishing to social media such as Facebook, Twitter, Instagram, YouTube, WeChat, and Sina Weibo as well as support for high speed super slow-motion cameras.
"We are delighted for the opportunity to work with the UCLA Athletic Staff and Coaches to optimize Envivo Replay as a coaching tool.", said Adolfo Rodriguez, Variant Systems Group Co-Founder and CEO. "We provide a user-friendly touch screen interface that allows anyone to very quickly become a replay operator and start contributing to the story telling process of live sporting event coverage but these same capabilities make it the perfect coaching tool."
Variant Systems' Envivo Replay is sold all over the world, and exclusively by FOR-A in North, Central and South America. The distribution agreement enables live event producers and broadcasters with the ability to use Envivo Replay as part of a complete live event workflow with FOR-A HANABI series video switchers, ClassX 3D graphics, and Video Writer telestrators.
About Variant Systems Group
Headquartered in Portland, Oregon and founded by a team of video professionals with over 60 years of combined industry knowledge specific to the Live Production market and live event workflows, Variant Systems Group provides a top-notch live replay product "Envivo Replay" that fills a gap in the college sports market, as well as the high-end production market. Envivo Replay delivers ease of use, intuitive and ergonomic designs, and flexibility in addition to features, and workflows to support revenue-generating models. VSG's Live Replay solution offers a proprietary user interface, which capitalizes on the effective interface of touch-screen input, as well as mechanical hardware control input devices.
For additional information please visit www.envivoreplay.com.
About FOR-A
FOR-A, a worldwide, industry-leading manufacturer, offers a wide range of Broadcast and Production products with a focus on cutting-edge technologies including: HD, 4K and IP Products.
FOR-A continues to offer future-ready, cost effective, advanced technology solutions. Products include: Video Switchers, Routing Switchers, Multi Viewers, Full 4K High-Speed Cameras, IP Encoders/Decoders, Multi-Channel Signal Processors, 8K/4K/HD Test Signal Generators, Color Correctors, Frame Synchronizers, File-Based Products, Character Generators, Video Servers and much more.
For a full range of HD and 4K Production and Processing solutions, as well as IP-Based Products, visit our web site at www.for-a.com.
Press and Marketing Contact: