Event
IBC 2018: FOR-A Introduces Several Systems to Support Overall Commitment to 12G and IP
IBC 2018: FOR-A Introduces Several Systems to Support Overall Commitment to 12G and IP
12G Converter, Multi-Channel Video Server, and Ultra-Slow-Motion Camera Just a Few of the Highlights
August 14, 2018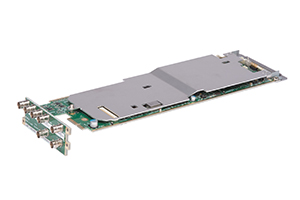 USF-106UDC-12G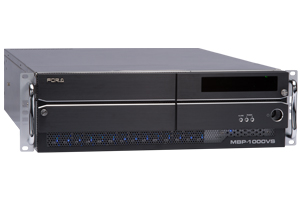 MBP-1000VS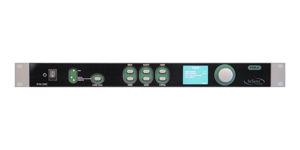 IF4K-DNC
Tokyo, Japan, August 14, 2018 – With the most extensive 12G and 4K compatible product line in Europe, FOR-A will demonstrate the benefits of a combined 12G/IP approach at the IBC convention this September. FOR-A's IBC show theme will be "Gateway to IP." To that end, the company is developing IP interfaces and remote control capability via standard protocols for all the company's 12G products and designing IP interfaces for the existing 3G/HD product line. FOR-A will exhibit in Hall 2, Stand A51.
4K 12G Offerings New at IBC:
Making its IBC debut is the latest solution in FOR-A's USF-Series of universal system frames, the USF-106UDC-12G 4K up/down converter. The unit offers Interlace/Progressive and up/down conversion for HD to 4K. The USF-106UDC-12G supports conversion between the following 4K signal formats: 12G-SDI/quad link 3G-SDI, 3G-SDI Level A/B, 2SI/SQD and ITU-R BT.2020/709.
The MBP-1000VS 12G-SDI/IP multi-channel video server will also be shown in Europe for the first time. The new server is ideal for 4K studio environments, offering multi-input/output 4K and HD support and ingest, playout and 4K recording functionality. 4K XAVC™ and MPEG-2 codecs are available with the MBP-1000VS, which allows for a direct interface to the NLE system via Ethernet. FOR-A is offering a range of MBP-1000VS interfaces for 12G-SDI or video over IP transmission, including 12G-SDI, 3G-SDI, and SFP+, to accommodate varying user needs for inputs/outputs and size of internal storage (SSD).
Specially designed for live, instant replay in ultra-slow motion, the FT-ONE-SS4K Variable Frame Rate Camera will be an IBC booth highlight. It supports UHD shot at up to 1000 frames per second and provides continual, real-time 4K live output. A native 2/3-inch image sensor enables the use of a B4 bayonet broadcast lens directly on the camera.
The new IF4K-DNC is a 12G-SDI supporting frame synchronizer and color corrector. The cost-effective processor, equipped with a 4K (UHD) to HD down converter, enables simultaneous 12G and HD output. The IF4K-DNC supports HDMI input/output in the 4K/HD format, so it can also be used as a frame synchronizer for HDMI to SDI conversion and SDI to HDMI converter for 4K/HD monitoring. The IF4K-DNC has HLG to SDR conversion functionality and supports wide color gamut as well as 12G and HD output. Because of the functionality, simultaneous output of 12G-SDI HLG/ITU-R BT.2020 and HD-SDI SDR/ITU-R BT.709 is enabled. The IF4K-DNC also supports AES and analog audio output and is suitable for audio monitoring.
In addition to the products listed above, FOR-A will highlight in its IBC booth:
- HVS-6000 and HVS-1200 vision mixers
- MFR-4000 and MFR-1000 routing switcher
- MV-4300 multi-viewer
- DSK-4800 4K/Downstream Keyer
- FA-9600 multi-purpose signal processor
- EDD-5400 4K Time Lag Checker
- SDI and IP Integrated System
- Vision mixer and IP codec combined remote production system
- Vision Mixer/ClassX CG/Envivo Instant Replay live production system