Customer Stories
Covenant Church of Naples Improves its Video Productions with FOR-A's HVS-390 Video Switcher
Covenant Church of Naples Improves its Video Productions with FOR-A's HVS-390 Video Switcher
February 13, 2018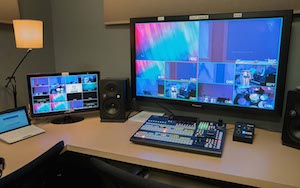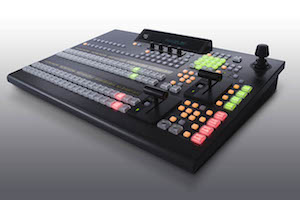 Cypress, CA, February 13, 2018 – Florida Presbyterian house of worship Covenant Church of Naples | PCA was in the market last year for a new video switcher to use during its weekend services. With cost efficiency, reliability, and a 2 M/E unit top of mind, the church found everything it was looking for in FOR-A's HVS-390HS video switcher, and the house of worship recently purchased the unit.
Before its HVS-390HS purchase, Covenant Church of Naples was using a 1 M/E video switcher that had passed its prime. From overheating problems to outputs dying, the older the switcher got, the more issues the church had with it. Software updates for the switcher were also too expensive for the budget-conscious house of worship. Furthermore, after adding a balcony with 300 additional seats to its existing building, Covenant Church of Naples had recently started doing IMAG to better accommodate those who didn't have optimal sight lines to the pulpit. Because of that, the church really wanted to work with a 2 M/E switcher.
"Having a switcher with two full M/Es with their own program and preview buttons has been a big win for us," said Ryan Young, Production Director, Covenant Church of Naples. "Our FOR-A switcher has really improved our operations and eased our video productions. And thanks to our training with FOR-A personnel, we know that we've only begun to tap into the full potential of the HVS-390HS. I'm looking forward to learning how to fully utilize the switcher's extensive feature set."
Trock Media Solutions worked with Covenant Church of Naples as its integrator for the project. Rick Trock explained, "We knew from the beginning that FOR-A's HVS-390HS unit would be a great fit for the church's production needs, and the switcher had also come recommended to Covenant Church of Naples from a colleague at another church. The HVS-390HS switcher's 16 inputs and eight outputs are a major benefit to their operations. The church has been able to streamline much of their operations by using the HVS-390HS in lieu of external routing or distribution."
Since the house of worship began using the HVS-390HS, Covenant Church of Naples has relied on it every weekend for its two services: its contemporary service that features a full band, and its more traditional service. The church records both and does IMAG during the sermon portions of each service with the HVS-390HS. The house of worship also recently used its new switcher for a successful event with the Naples Brass, a 16-piece band.
One aspect of the switcher that Young finds really helpful is its web interface capability. The church uses ProPresenter software for projection graphics and character generation, and Dave Hannon, Covenant Church's Technology Director, wrote a Python script that translates MIDI cues triggered in ProPresenter into button presses on the web interface for the switcher. This results in what Young says is a, "much more reliable key on both our IMAG and capture feeds."
All in all, Covenant Church of Naples is confident that the HVS-390HS was the right choice for its production needs. Young concluded, "Our experience with FOR-A has been fantastic. I'd definitely recommend FOR-A to other churches that are in the market for a high-quality, cost-efficient switcher."