4K I/O, up to 68 inputs, and 8 monitor outputs. Now with HDMI 2.0b output support, the MV-4200 series can be used in monitoring environments that will be displaying 4K Ultra HD TV.
MV-4200/MV-4210 2RU multi viewers accept up to 68 inputs of mixed 3G/HD/SD-SDI, composite, HDMI, DVI or RGBHV inputs and provide up to 8 independent monitor outputs. For both SDI and HDMI 2.0 outputs, choose the MV-4200. If only SDI output is needed, choose the MV-4210. Some of the many new features for a more versatile environment include HDMI 2.0b output, mixed 2K/4K output, HD to 4K up-resizing, and logo display in title areas.
Up to 68 channels of input with optional cards*1
Combine optional input cards, MV-4200SDI (3G/HD/SD-SDI, Composite x20), MV-4200PCI (DVI-I/HDMI/RGBHV x8), or the MV-4200IF interface card (GPIO, serial control, input of analog audio, AES audio, genlock), as needed.
1 Three MV-4200SDI cards.
MV-4210 SDI output model
Up to 8 channels of SDI video output

View up to 8 monitors with different layouts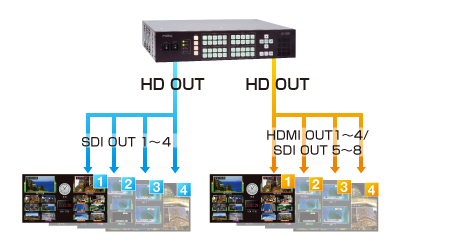 Up to 114 windows over 8 output displays
Up to 8 clocks per 8 output displays
Up to 8 logos and 1 background per 8 output displays
3G-SDI inputs support 4K (UHD) source input

Layout Manager enables easy layout of 4K video in a seamless display
HDMI 2.0b output

4K (UHD) output (3840 x 2160, YUV 4:2:0) over a single HDMI cable
Crosspoint control for 4K playback

Four input signals assigned to crosspoints 1 to 4 can be controlled together.
With HDMI 2.0b, choose from two layouts
4K output: 1 channel x 4 outputs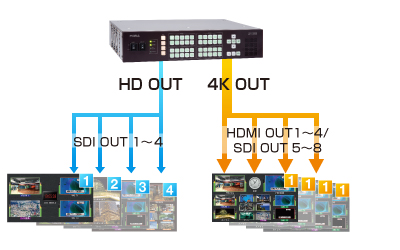 4K output: 2 channel x 2 outputs
2K or 4K SDI/HDMI output in customizable layouts

Mixed 2K/4K output also supported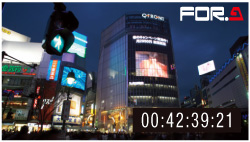 Logo display in title areas
Register a logo for each input, or use the same logo for all windows. Up to 8 logos can be registered
Import bitmaps from the logo registration screen
Titles can also show text entered from a web browser
HD to 4K up-resizing

Layout Manager
Windows-based screen layout creation and management software. Customize layouts using the software to adjust image size, position, title display and other settings. Store up to 68 layout patterns on the multi viewer. Saved layouts can be recalled directly from the front panel control.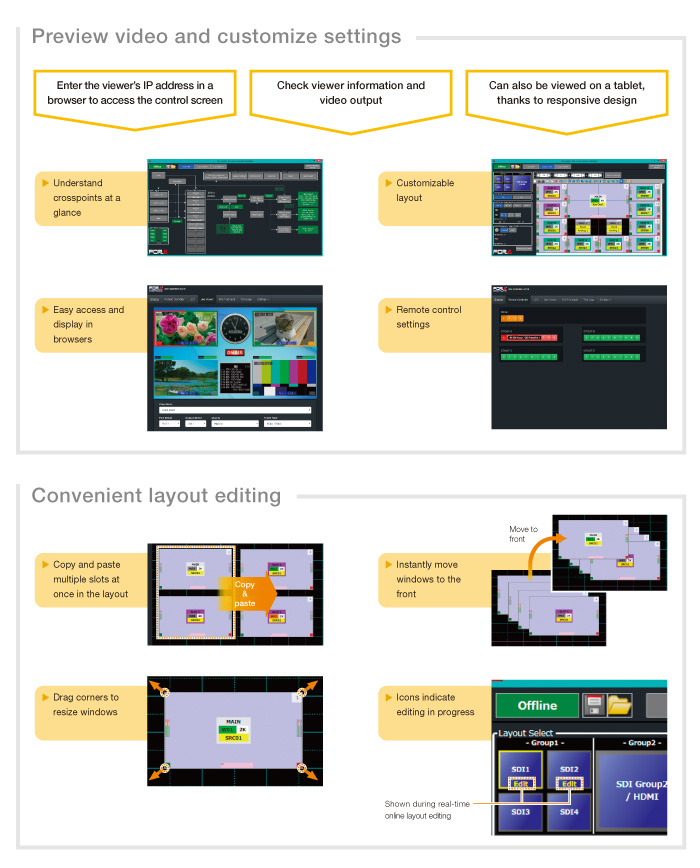 Features
Video Streaming
Record Streamed Video
Versatile Mixed-Source Environment
HD Output of Source Signals
Audio Level
Audio Monitoring Output
Prominent Error Display
Tally/Title/Timecode
Time of day, Timer, and Information Display
Information Display
Logo/Background
Input Lock
Can display time based on a 30-hour clock
Schedule Timer
Cropping
Frozen Frame Detection
Appearance without optional units

Appearance with all optional units
With MV-4200IF, MV-4200PCI, MV-4200SDI and MV-4200PS optional cards (from top to bottom) mounted