The MFR-8000 builds on the functions and control interfaces of MFR-5000 specifications to offer an expanded matrix of up to 256 inputs/256 outputs in a 16U frame.
Multi-Format Support
3G-SDI(Level A/B), HD-SDI, SD-SDI and ASI signal input/output with automatic signal type detection.
Various Audio Input and Output Support
Ready for a range of audio input/output cards. This allows for a combined audio/video router in a single unit along with A/D and D/A conversion, plus embedding and de-embedding.
MFR-16AESI: Input card for 16 AES/EBU stereo pairs (32 channels)
MFR-16AESO: Output card for 16 AES/EBU stereo pairs (32 channels)
MFR-16AAI: Input card support for 16 analog audio with A/D converter
MFR-16ADI: Input card for 16 AES/EBU stereo pairs with SRC
MFR-16ADAO: Audio output card for up to 8 stereo pairs with D/A converter (16 channels)
Control Signal Input/Output Support
Routes control signals between master units (editing stations, etc.) and slave units (video servers, etc.) with an added I/O card for serial control.
MFR-16DTIO: 16-port RS-422 I/O card
Configuring Matrices (Maximum 256 Input/ 256 Output)
Each input/output board has 16 channels and up to 16 boards can be installed together. As a result, matrices of up to 256 inputs/ 256 outputs can be configured, allowing the unit to support 16 inputs/16 outputs of 8K signal and 64 inputs/64 outputs of 4K signal.
MFR Series WEB-based Control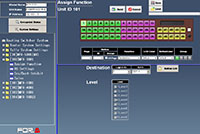 Gives free access to MFR-8000 control settings such as system settings, input and output settings, tally settings, remote control button assignments, and crosspoint switch settings.
Outstanding Redundancy
CPU board redundancy (option)
Redundant power supply (option)
Network redundancy (option)
Direct control of main unit: the main unit has an LED display on the front. It can display settings and alarms.
Various Crosspoint Control
A variety of crosspoint control features are available in addition to normal crosspoint switching.
Salvo function
Take operation
Link function
Level operation
Chop function
Monitor out
Prevention of incorrect operation
Matrix Partition Function
One routing switcher can be virtually partitioned to build any theoretical hierarchy, creating possibilities for use in various operations.
Fully independent switching
V/Key linking switcher
3D switcher
HD/SD simul-switcher
4K/8K switcher (supporting crosspoint)
SNMP Support
Remote SNMP monitoring allows the router to be easily integrated into an SNMP monitoring system. In this way you can monitor status of various items including power source, fan and CPU units, presence/absence of signals, crosspoint errors and more.
Outstanding Maintainability
Designed for maintainability, all boards and power units can be accessed from the front without removing cables.