We rely excusively on FOR-A switchers
Robb MacTavish
Video Directors
Flatirons Community Church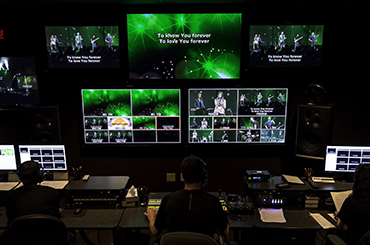 Colorado-based Flatirons Community Church first began working with FOR-A switchers in 2011, when the house of worship purchased an HVS-350HS 1.5 M/E unit for its main campus in the town of Lafayette. Upon the recent opening of its West Campus in Genesee to support the ministry's continuing growth, the church was in the market for a new video switcher. Having been so pleased with its FOR-A switcher, Flatirons Community Church had no doubts about staying within the FOR-A family for its new unit. The church purchased an HVS-390HS 2 M/E switcher for its main campus, and moved its HVS-350HS switcher to its new satellite campus earlier this year.
"Both of our campuses operate in a visually dynamic multi screen environment, and we rely exclusively on our FOR-A switchers to fulfill our video production needs," said Robb MacTavish, Video Director, Flatirons Community Church. "We use our FOR-A switchers primarily for image magnification, video delivery in overflow spaces, and streaming from our main campus to our satellite campus."
Between its two locations, Flatirons Community Church has an average weekly attendance of 17,000 people. Four weekly services take place at its main campus, while two services are run at its second campus. The church relies heavily on its nearly 100 volunteers. In fact, the house of worship's volunteers almost exclusively handle video production. The similar functionality between FOR-A's HVS-350HS and HVS-390HS switchers and the user friendliness of the units has simplified the church's operations.
"As the church's video director, an important part of my job is training volunteers in the use and care of our video equipment. Since FOR-A switchers are so user friendly, this has been a very easy task," explained MacTavish. "The units, particularly the HVS-390HS, offer impressive in-the-box functionality. With a lot of other vendors, you would need to buy a larger, more expensive switcher to get the functionality you get with our units, or you would have to add external pieces of video gear to achieve the same amount of performance that you experience with FOR-A. What our church has been able to accomplish with the use of freely assignable KEY's, DSK's, and multiple DVE's has been simply amazing."
A unique feature of the switchers that the house of worship takes advantage of in its multiscreen directing is the ability to prohibit any input on either of the M/E buses. While the church's volunteers have been able to easily learn how to operate the FOR-A switchers, this feature ensures that no one accidentally takes a source to the wrong screen, at any time. Another switcher feature that Flatirons Community Church appreciates is the ability to take a single source, such as song lyrics, and key them over multiple outputs in different positions. The switchers' ability to program multiple events and include different DSK's for each event, as well as the option to produce different visual effects, are other features that the chu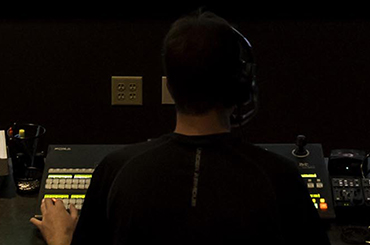 Beyond the switchers themselves, Flatirons Community Church has been impressed with FOR-A's high level of customer service. MacTavish said, "Though we haven't had the need to contact technical support since our switchers consistently work so well, the customer support from FOR-A on our switcher setup, use, and programming was outs."
He added, "Reliability, cost efficiency, and user friendliness were all major factors in our switcher purchases. I highly recommend that anyone looking for a switcher that operates extremely well in a multi screen environment check out FOR-A."