Extreme choice in control surfaces
With the HVS-390HS, there is no compromise offering up to 3 different control panels and up to 5 remote AUX control panels that can be used all at the same time!You can choose what size or type of control you prefer and what fits your environment. From the 19" rack mount 12 button panels (1M/E or 2M/E), all the way up to the operator designed 2M/E 28 button panel. As well as traditional control panels, there is also the choice of simple remote panel, included Web browser control, and our range of AUX control panels. All control choices are easy to operate, for safe, reliable and repeatable LIVE operation!
Advanced AUX- Virtual 6M/E
While the HVS-390HS has a full powered primary Mix Effects (M/E), FOR-A offers the first switcher system to use Advanced AUX technology. Operators and technical staff will appreciate the capabilities of a virtual 6M/E switcher. With Advanced AUX technology any AUX bus can be used like never before… and AUX output can cut, mix, wipe, key and move graphics with a DVE.

A dozen DVE channels
The HVS-390HS has 8 channels of 2.5D and 4 channels of 3D DVE. Twelve channels of DVE means you don't need to float DVEs as you should have enough for any production need. All twelve channels are included, no extra charge. Some other suppliers, ask you to pay for enough DVEs or only provide 4.

2 Keyers and 2 DSKs
Further proof of the power of these new small mixers is that they come as standard with 2 keyers, 2 DSKs and 4 powerful 2.5D DVE engines. An advanced, high quality Chroma keyer can be assigned to any one of the two M/E Keyers or two Downstream Keyers. The 4 powerful DVE engines, can be assigned to any keyer or used for transitions etc, and with their standard 2.5D ability, allows flexible creativity for the operator to enhance productions.
Animation playout (CG wipe): with picture of CG wipe
The HVS-390HS can store and playout from an internal 4 channel media player. Why not free up your external clip player(s) and let the 'no extra charge' internal media player replay those animated bugs or integrate your animations into transition opens and closes. Your wipe transitions will really get noticed as the animation becomes part of youn A/B wipe.

Operation via Web browser
The ability to set up, adjust and operate the HVS-390HS via a Web browser, from a PC, Mac, or tablet device, over Ethernet, is included at 'no extra charge'.
This also allows easy recalling and editing of macros, key-frame sequences and event memories. The Web browser control also displays thumbnails of stills loaded to still stores. This easy to use software control can be used as at secondary operational positions, or as an AUX control for TD or director.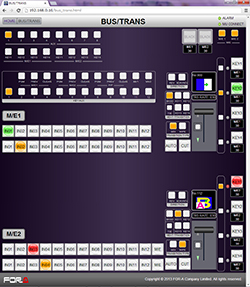 Powerful outputs! - All at the same time
2.5 M/E switcher
With Advanced AUX plus technology, we provide a virtual 6M/E production switcher. You can even also use AUX bus 7 and 8 as a Half M/E (Program/Preset bus) complete with mix transitions and up to 4 DSK's.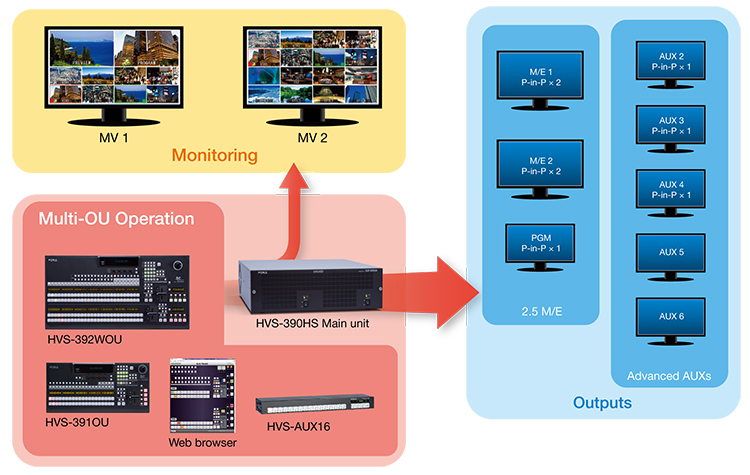 Dual multi-viewer
Two independent multi-viewers are equipped, each capable of displaying 16 windows with safety area marker and audio level meter.

HVS-390HS standard features
4 x Keyers on each M/E, including 2 high quality Chroma keyers, can be used as keyers and/or Picture in Picture
Freely assign up to 4 x keyers to an AUX output or M/E output (2 from M/E 1, 2 from M/E 2)
All keyers include DVE with resize and perspective/tilt, etc. (2.5D)
2 x 3D DVEs on each M/E for background and keyer transitions
CG Wipe engine on each M/E offering animated wipe/mix transitions
'Next transition' including direction for all keyers and background on each M/E, as well as FOR-A's On-Air programmable transition section
Included Web Browser GUI gives total control and set up from a connected device such as PC, Mac, or Tablet, etc.
FTP access for stills and clip sequences, plus built-in USB for stills
Increase the number of stills by using spare inputs as extra still stores
The Web Browser provides an easy way to edit: Macros, Event Memories and key-frame sequences
Industry leading color correction with 2 per M/E, assignable for inputs or entire bus
4 clip store capability with up to 60 frames in each clip store (HVS-39MEM option provides 120 frames)
Option to save stills and clips to internal memory (HVS-39MB)
Redundant PSU for both Main and Control Panel available, hot-swappable from the front of the MU
Safe-area generator and audio monitoring are selectable and adjustable per window on internal multi-viewer layouts
2 x Multi-viewer outputs in HD Mode, each with selectable layouts
Standard interface for multiple external device control, including audio mixers, routers, and VTR/VDCP units via RS-422 and VDCP
Individually switchable frame synchronizer on each input
4 x Upconverters are standard—expandable to 12
16 inputs are standard, expandable to 24 with optional HD/SD-SDI, DVI, VGA, composite or component cards
8 outputs plus 1 x HDMI output are standard, expandable to 13 with optional HD/SD-SDI, DVI, VGA, composite or component cards
Depending on configuration and usage, HVS-390HS has a minimum delay of 1 line in HD
Up to 100 m BNC cable can be used to connect Mainframe and control panel
Dedicated Black Burst or Tri-Level sync output
Facility Integration:
When integrating a router and switcher, FOR-A's system incorporates pass through for processing of tally information and source names. Integrate an Audio mixer with the HVS-390HS using ESAM II (edit suite audio mixer) industry standard protocol. Media player interfaces can use VDCP (video disk communications protocol) RS-422 based VTR style control. VR-Link Optional software for FOR-A for current or future virtual studio use.