FOR-A Exhibiting Range of Video Production Equipment at Brazil's SET Expo
August 26, 2016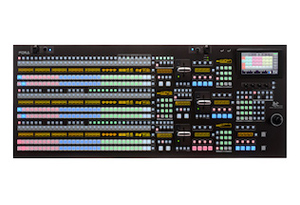 The HVS-2000 video switcher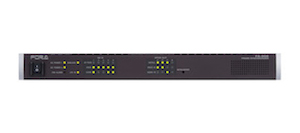 FOR-A's FA-505 signal processor
Cypress, CA, August 26, 2015 – At this week's SET Show in Brazil, FOR-A is showcasing a range of its video and audio solutions. FOR-A is exhibiting in Booth 94 at the show, which takes place through August 27th at the Expo Center Norte in Sao Paolo.

One highlight of FOR-A's booth is its HVS-2000 video switcher. Ideal for a wide range of applications and used for SD, HD, 3G and 4K productions, the HVS-2000 allows up to 48 inputs/22 outputs. The unit offers exclusive features, including MELite™, which allows a traditional AUX bus to transform into a functional Mix Effects with cuts, mix, wipes, keys, and DVE including full preview. This technology enables the performance of a flexible 6 M/E production switcher to be deployed in any facility. The newest version of the HVS-2000 features a 3-row control panel, enabling users to get the most out of the video switcher's unique capabilities. FOR-A is also showcasing its cost effective HVS-100 portable video switcher, which includes mixed HD/SD input, frame synchronizing, a built-in Web server, clip memory feature, re-sizing engine, 2.5D wipe effects, DVE, Chroma keyer and DSK.

Another focus of the FOR-A booth is its signal processors, including the FA-1010 and FA-505 units. The FA-505 is a five-input, five-output signal processor that features up/down/cross/aspect ratio conversion capability on each input and is ideal for 4K applications. The signal processor also features a powerful synchronizer that includes frame/line/AVDL modes, video delay line of up to eight frames, full RGB color correction, and 16 channels of embedded audio per channel, with the ability to remap channels from any input to any output. With 10 video inputs and outputs, the award-winning FA-1010 offers multi-channel routing between sources as well as effective video and audio signal processing for line, relay, reporting, production, editing and delivery applications.

FOR-A's MV-1620HSA 3G/HD/SD/analog mixed high-resolution multi-viewer are also on hand at the SET Expo. The full-featured yet compact unit accepts up to 16 channels for monitoring on up to two screens and also supports 4K (QFHD) inputs.

FOR-A is also showing its MFR-3232 multi-format routing switcher, which supports 3G-SDI, HD-SDI, SD-SDI, and ASI signals. The compact unit offers a variety of features, including an interface function for multi-link synced operation, and tally and automatic source name tracking connections with peripheral devices.


About FOR-A
FOR-A, a worldwide, industry-leading manufacturer, offers a wide range of Broadcast and Production products with a focus on cutting-edge technologies including: HD, 4K and IP Products.
FOR-A continues to offer future-ready, cost effective, advanced technology solutions. Products include: Video Switchers, Routing Switchers, Multi Viewers, Full 4K High-Speed Cameras, IP Encoders/Decoders, Multi-Channel Signal Processors, 8K/4K/HD Test Signal Generators, Color Correctors, Frame Synchronizers, File-Based Products, Character Generators, Video Servers and much more.
For a full range of HD and 4K Production and Processing solutions, as well as IP-Based Products, visit our web site at www.for-a.com.
Press and Marketing Contact: