FOR-A to Debut MFR-3000 Routing Switcher at NAB 2015
April 9, 2015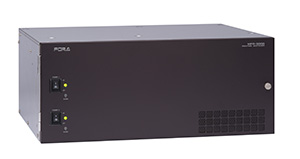 MFR-3000 Main Unit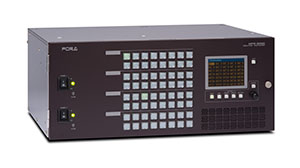 MFR-30FP Front Panel
Cypress, CA, April 9, 2015 – At the upcoming NAB Show in Las Vegas, FOR-A will debut its new routing switcher, the MFR-3000 3G/HD/SD/ASI unit. Building on the success of the company's larger MFR-5000 and MFR-8000 units, the 4RU MFR-3000 is an ideal solution in midsize systems where variable input/output capabilities and mixed signal formats are used. FOR-A will exhibit the MFR-3000 along with its wide variety of video and audio production solutions at NAB in booth C5117.

Designed for mission critical broadcast facilities, the MFR-3000 routing switcher can be expanded by eight inputs or outputs modules, up to a maximum of 64-input/64-output matrix. Operators can also use up to four inputs and four outputs for 8K facilities, as well as 16 inputs and 16 outputs at 4K, making it an ideal selection for any growing facility. The unit offers auto signal detection and provides standard support for 3G-SDI, HD-SDI, SD-SDI, and ASI input and output.

FOR-A's MFR-3000 offers outstanding redundancy to ensure continuous operation if problems arise. The unit provides a built-in Web server for immediate setup, eliminating the need to install software on external devices. The routing switcher can be integrated into a SNMP monitoring system to oversee various operational states and to set system failure and recovery alerts. The MFR-3000 requires easy maintenance and offers versatile crosspoint control, interface expansion units, and connectivity with other products, such as FOR-A's HVS-2000 video switcher for input expansion.

In addition to the MFR-3000 routing switcher, FOR-A will show new video switcher, multi-viewer, signal processor, and 4K high-speed camera technology at NAB 2015. Visit the company in Booth C5117 during next week's show to learn more about FOR-A's versatile product line.
About FOR-A
FOR-A, a worldwide, industry-leading manufacturer, offers a wide range of Broadcast and Production products with a focus on cutting-edge technologies including: HD, 4K and IP Products.
FOR-A continues to offer future-ready, cost effective, advanced technology solutions. Products include: Video Switchers, Routing Switchers, Multi Viewers, Full 4K High-Speed Cameras, IP Encoders/Decoders, Multi-Channel Signal Processors, 8K/4K/HD Test Signal Generators, Color Correctors, Frame Synchronizers, File-Based Products, Character Generators, Video Servers and much more.
For a full range of HD and 4K Production and Processing solutions, as well as IP-Based Products, visit our web site at www.for-a.com.
Press and Marketing Contact: