FOR-A NAB Booth to Feature Video Switchers, Multi-Viewers, Signal Processors & New Version of its 4K Camera
February 16, 2015

HVS-2000
Cypress, CA, February 16, 2015 – During the 2015 NAB Show, FOR-A will showcase the latest version of its 4K high-speed camera, multi-viewing and signal processing technology, and a variety of video switchers, including the new HVS-2000. The company's product display will focus on 4K technologies for every stage of the video production process. FOR-A will exhibit in Booth C5117 during the show, which takes place April 13-16 at the Las Vegas Convention Center.

A highlight at FOR-A's NAB booth will be the versatile, cost-efficient HVS-2000 video switcher, which is being shown for the first time in the U.S. The HVS-2000 is a flexible SD, HD, 3G and 4K video switcher that allows up to 48 inputs/18 outputs or 40 inputs/22 outputs. The unit features exclusive features unique to other switchers in its class, including the introduction of MELite™, which allows a traditional AUX bus to transform into a functional M/E with cut, mix, wipe and key control; ONStage™, a newly developed technology designed specifically for staging events where multiple image magnification displays are used; and FLEXaKEY™, which allows operators to tailor their production needs by adding and moving key and DVE layers to traditional M/E resources or to MELite resources.

Other video switchers that will be displayed include the popular HVS-390HS unit, which includes 16 HD/SD-SDI inputs and eight outputs (expandable to 24 inputs and 13 outputs), with frame synchronizers for all inputs. Offering powerful tools to create a richer audience experience, current HVS-390HS customers include houses of worship, universities, public access television stations, major newsgathering organizations, government agencies and network news stations. FOR-A will also show the HVS-110 HD/SD portable video switcher, which features a compact design that makes it an ideal choice for use in small broadcasting vans and flypacks.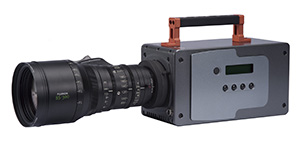 FT-ONE-S
On the camera front, FOR-A will introduce the newest version of its 4K variable frame rate camera, the FT-ONE-S. The new 4K camera allows operators to separate the camera head from the body for exceptional mobility. Capable of shooting up to 360 frames per second (fps), the FT-ONE-S enables unprecedented shooting positions and camera angling for live sports and events.

FOR-A will display a number of its 4K compatible multi-viewers in its NAB booth, including the MV-1620HSA, MV-42HSA and MV-4200 units. The MV-1620HSA is a 1RU unit that accepts up to 16 channels of signals for monitoring on up to two screens, and can be cascaded with other units to display up to 64 sources simultaneously. FOR-A's MV-4200 is a 2 RU unit multi viewer that supports 3G-SDI, HD-SDI, SD-SDI, analog composite, HDMI, DVI and RGBHV sources. The unit accepts 4K signals and is capable of handling up to 68 inputs and 8 channels of output, while the MV-42HSA is a down-converter ideal for monitoring 4K footage. First introduced last year, all of the units are now deliverable.

Another highlight of FOR-A's NAB booth will be the FA-505 multi-channel signal processor. Offering extreme connectivity, the five-input, five-output signal processor features up/down/cross/aspect ratio conversion capability on each input. Ideal for 4K applications, features of the unit include: a powerful synchronizer that includes frame/line/AVDL modes, video delay line of up to eight frames, full RGB color correction, and 16 channels of embedded audio per channel - with the ability to remap channels from any input to any output.

   *Enter LV4888 as the VIP guest code and you can register for free.
      → Click here and fill in the registration form
About FOR-A
FOR-A, a worldwide, industry-leading manufacturer, offers a wide range of Broadcast and Production products with a focus on cutting-edge technologies including: HD, 4K and IP Products.
FOR-A continues to offer future-ready, cost effective, advanced technology solutions. Products include: Video Switchers, Routing Switchers, Multi Viewers, Full 4K High-Speed Cameras, IP Encoders/Decoders, Multi-Channel Signal Processors, 8K/4K/HD Test Signal Generators, Color Correctors, Frame Synchronizers, File-Based Products, Character Generators, Video Servers and much more.
For a full range of HD and 4K Production and Processing solutions, as well as IP-Based Products, visit our web site at www.for-a.com.
Press and Marketing Contact: